Shell -> fish
Profile -> sweet
thanks for the quick reply @Naman, is there any way that I can install the same profile into Garuda Gnome edition?
You can search about it on any search engine.
Also, you can modify terminal to suit you.
That looks pretty cool!

With some inspiration from @tardy , I finally took sometime to "rice" out my teriminal a bit this morning. I think, it's finally complete and I'm very happy with it and as all things Arch, it's only cool if you're telling everyone about it. So here she is:
I updated neofetch, added fish, lsd, color to terminal, etc. It's much nicer.
Yes I know about the locale warning - it's the only way to get a Monday start in my calendar and the correct time in USA.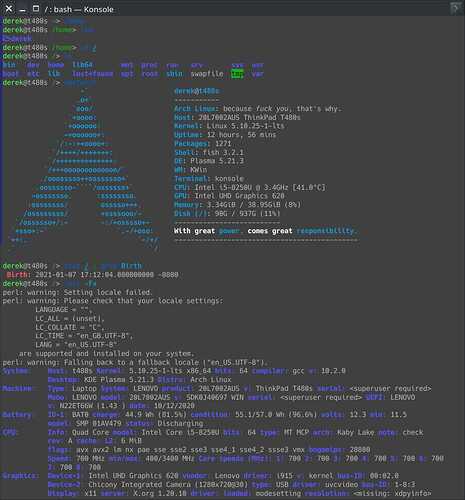 It looks like a lot of you keep fish as your shell. I've never used it before encountering Garuda last week but I like it a lot thus far. The manual has answered every question I've had to date. Any reason to switch to bash or zsh beyond personal preference? Like is there anything specific to Garuda that compels one to keep fish or change the shell?
Good question but off-topic, here is "Show us your terminal"


Open new topic or at least it is all taste and ask 100 people you got hundret answers, so, use what you like.

Short answer: no, I don't think so.
Ok, I change it to "Show us your Garuda terminal"

I actually also never used it until I played around with Garuda recently. I liked it enough to add to Arch. Very solid little addition to making the terminal nice.
Use whatever makes you happiest. Like the Good Lord infant baby Jesus said, "Let them eat fish."
Or something. I think I'm mixing up my quotes. Ah, nevermind, forget the whole thing.
Sorry. My apologies. I won't do it again.
what's the color codes for the terminal output ?