Hi everyone
Sorry in advance but this is the first time I create a topic and I don't know if I'm doing it right.
I will try to best describe my problem.
Or a problem on my grub, meaning I don't see my distributions anymore.
or rather I only see one of garuda lxqte.
but or also garuda kde and win10
and the latter I no longer see.
I do the grub update:
sudo update-grub, and it gives me this result:
[email protected] ~]$ sudo update-grub
Generating grub configuration file ...
Found theme: /usr/share/grub/themes/garuda/theme.txt
Warning: os-prober will be executed to detect other bootable partitions.
Its output will be used to detect bootable binaries on them and create new boot entries.
Adding boot menu entry for UEFI Firmware Settings ...
Detecting snapshots ...
Kernels not found.
If you think an error has occurred , please file a bug report at " GitHub - Antynea/grub-btrfs: Include btrfs snapshots at boot options. (Grub menu) "
Unmount /tmp/grub-btrfs.c5iNN7XDEZ .. Success
done
but it does not see the other partitions.
I made the efi part as a procedure.
and when it starts there is only garuda boot but no os.
in gparted you can see very well my partitions, including the efi partition.
but it is not resolved.
thank you very much and I hope you understand what I wrote you.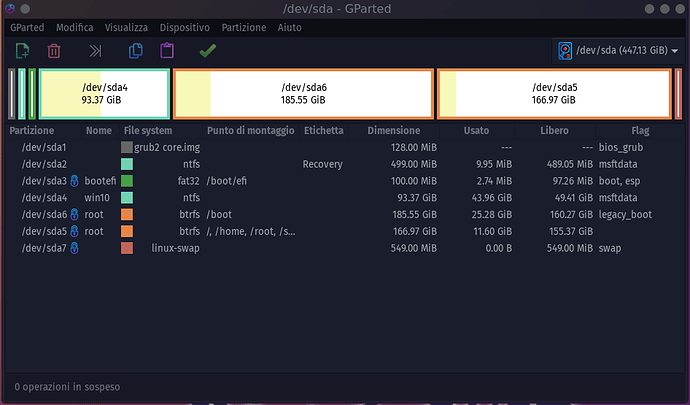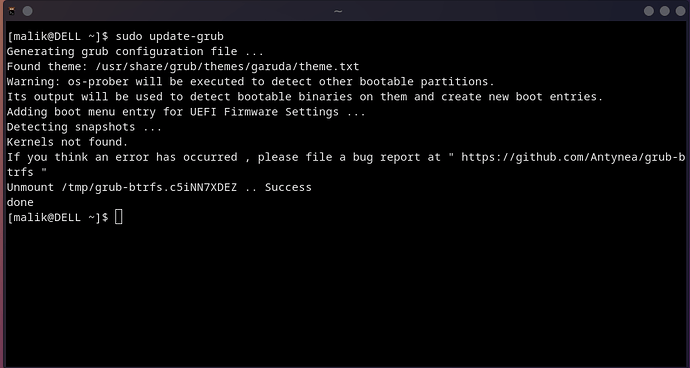 a thousand thanks