Hi All,
I downloaded Garuda KDE both normal Dragonized and the BlackArch versions, but failed to install both of them in my laptop. I have attached screenshot.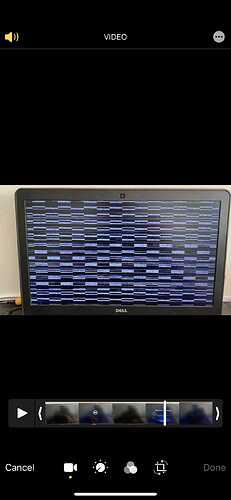 Steps Followed:
Download iso using torrent download
Write to USB Flash (32GB) drive using Rufus
Booted through USB mode
Tried both but same results
i. Select Boot using open source drivers
ii. Select Boot allowing proprietary drivers (NVIDIA)
Problem:
After booting just few white lines kept flashing on top of the screen leaving rest of the screen black, nothing visible.
System Specs:
Dell Inspiron15 7000
Intel i7-6700HQ 2.60GHz processor
16GB DDR4 RAM
500 GB SSD at M.2 slot
1 TB HDD at SATA slot
NVIDIA GeForce GTX 960M 4 GB Graphics
Intel HD 530 Graphics
My system works without any issues in Windows.
Any help? Thank you in advance
Regards,
Abhishek Mitra