I previously had this issue above with my microphone where I had to install EasyEffects:
sudo pacman -S easyeffects
... and reduce the microphone to 25% in order to get decent sound in the microphone: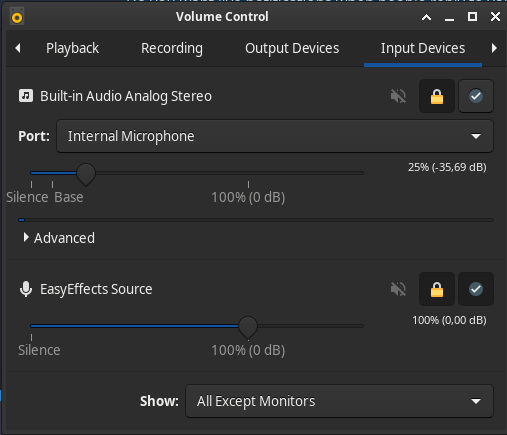 And then recently I had an issue that resulted in me having to to wipe my computer and reinstall Garuda from scratch, and I had to do the steps in previous paragraph all over again.
Please, the owner of Xfce flavor of Garuda, can you apply the steps in the 1st paragraph as default settings so that new users of Garuda Xfce don't have to go through this mess? It seems like low-hanging fruit that could be implemented without too much effort, and yet make a great difference to users.
inxi -Faz
System:
  Kernel: 5.15.69-1-lts arch: x86_64 bits: 64 compiler: gcc v: 12.2.0
    parameters: BOOT_IMAGE=/@/boot/vmlinuz-linux-lts
    root=UUID=4bc99fd1-6a7e-4096-8fca-ccd010a3944b rw [email protected]
    quiet quiet splash rd.udev.log_priority=3 vt.global_cursor_default=0
    loglevel=3
  Desktop: Xfce v: 4.16.1 tk: Gtk v: 3.24.34 info: xfce4-panel wm: xfwm
    v: 4.16.1 vt: 7 dm: LightDM v: 1.32.0 Distro: Garuda Linux base: Arch Linux
Machine:
  Type: Laptop System: Acer product: Aspire A315-56 v: V1.15
    serial: <superuser required>
  Mobo: IL model: Sleepy_IL v: V1.15 serial: <superuser required>
    UEFI: Insyde v: 1.15 date: 07/13/2020
Battery:
  ID-1: BAT1 charge: 40.2 Wh (100.0%) condition: 40.2/47.8 Wh (84.1%)
    volts: 12.1 min: 11.2 model: LGC AP18C8K type: Li-ion serial: N/A
    status: full
CPU:
  Info: model: Intel Core i3-1005G1 bits: 64 type: MT MCP arch: Ice Lake
    gen: core 10 level: v4 built: 2019-21 process: Intel 10nm family: 6
    model-id: 0x7E (126) stepping: 5 microcode: 0xB2
  Topology: cpus: 1x cores: 2 tpc: 2 threads: 4 smt: enabled cache:
    L1: 160 KiB desc: d-2x48 KiB; i-2x32 KiB L2: 1024 KiB desc: 2x512 KiB
    L3: 4 MiB desc: 1x4 MiB
  Speed (MHz): avg: 1252 high: 1283 min/max: 400/3400 scaling:
    driver: intel_pstate governor: powersave cores: 1: 1183 2: 1283 3: 1264
    4: 1279 bogomips: 9523
  Flags: avx avx2 ht lm nx pae sse sse2 sse3 sse4_1 sse4_2 ssse3 vmx
  Vulnerabilities:
  Type: itlb_multihit status: KVM: VMX disabled
  Type: l1tf status: Not affected
  Type: mds status: Not affected
  Type: meltdown status: Not affected
  Type: mmio_stale_data mitigation: Clear CPU buffers; SMT vulnerable
  Type: retbleed mitigation: Enhanced IBRS
  Type: spec_store_bypass mitigation: Speculative Store Bypass disabled via
    prctl and seccomp
  Type: spectre_v1 mitigation: usercopy/swapgs barriers and __user pointer
    sanitization
  Type: spectre_v2 mitigation: Enhanced IBRS, IBPB: conditional, RSB
    filling, PBRSB-eIBRS: SW sequence
  Type: srbds mitigation: Microcode
  Type: tsx_async_abort status: Not affected
Graphics:
  Device-1: Intel Iris Plus Graphics G1 vendor: Acer Incorporated ALI
    driver: i915 v: kernel arch: Gen-11 process: Intel 10nm built: 2019-21
    ports: active: eDP-1 empty: HDMI-A-1 bus-ID: 00:02.0 chip-ID: 8086:8a56
    class-ID: 0300
  Device-2: Quanta HD User Facing type: USB driver: uvcvideo bus-ID: 1-7:3
    chip-ID: 0408:a061 class-ID: 0e02
  Display: x11 server: X.Org v: 21.1.4 compositor: xfwm v: 4.16.1 driver:
    X: loaded: modesetting alternate: fbdev,intel,vesa gpu: i915
    display-ID: :0.0 screens: 1
  Screen-1: 0 s-res: 1920x1080 s-dpi: 96 s-size: 508x285mm (20.00x11.22")
    s-diag: 582mm (22.93")
  Monitor-1: eDP-1 model: BOE Display 0x07cb built: 2018 res: 1920x1080
    hz: 60 dpi: 142 gamma: 1.2 size: 344x193mm (13.54x7.6") diag: 394mm (15.5")
    ratio: 16:9 modes: 1920x1080
  Message: Unable to show GL data. Required tool glxinfo missing.
Audio:
  Device-1: Intel Ice Lake-LP Smart Sound Audio vendor: Acer Incorporated ALI
    driver: snd_hda_intel v: kernel alternate: snd_sof_pci_intel_icl
    bus-ID: 00:1f.3 chip-ID: 8086:34c8 class-ID: 0403
  Sound Server-1: ALSA v: k5.15.69-1-lts running: yes
  Sound Server-2: PulseAudio v: 16.1 running: no
  Sound Server-3: PipeWire v: 0.3.58 running: yes
Network:
  Device-1: Realtek RTL8111/8168/8411 PCI Express Gigabit Ethernet vendor: Acer
    Incorporated ALI driver: r8169 v: kernel pcie: gen: 1 speed: 2.5 GT/s
    lanes: 1 port: 4000 bus-ID: 01:00.0 chip-ID: 10ec:8168 class-ID: 0200
  IF: enp1s0 state: down mac: <filter>
  Device-2: Qualcomm Atheros QCA9377 802.11ac Wireless Network Adapter
    vendor: Lite-On driver: ath10k_pci v: kernel pcie: gen: 1 speed: 2.5 GT/s
    lanes: 1 bus-ID: 02:00.0 chip-ID: 168c:0042 class-ID: 0280
  IF: wlp2s0 state: up mac: <filter>
  IF-ID-1: wg-mullvad state: unknown speed: N/A duplex: N/A mac: N/A
Bluetooth:
  Device-1: Lite-On Qualcomm Atheros QCA9377 Bluetooth type: USB
    driver: btusb v: 0.8 bus-ID: 1-10:4 chip-ID: 04ca:3015 class-ID: e001
  Report: bt-adapter ID: hci0 rfk-id: 2 state: up address: <filter>
Drives:
  Local Storage: total: 238.47 GiB used: 70.2 GiB (29.4%)
  SMART Message: Required tool smartctl not installed. Check --recommends
  ID-1: /dev/nvme0n1 maj-min: 259:0 vendor: Kingston
    model: RBUSNS8154P3256GJ1 size: 238.47 GiB block-size: physical: 512 B
    logical: 512 B speed: 15.8 Gb/s lanes: 2 type: SSD serial: <filter>
    rev: E8FK12.3 temp: 29.9 C scheme: GPT
Partition:
  ID-1: / raw-size: 238.21 GiB size: 238.21 GiB (100.00%) used: 70.2 GiB
    (29.5%) fs: btrfs dev: /dev/nvme0n1p2 maj-min: 259:2
  ID-2: /boot/efi raw-size: 260 MiB size: 256 MiB (98.46%) used: 594 KiB
    (0.2%) fs: vfat dev: /dev/nvme0n1p1 maj-min: 259:1
  ID-3: /home raw-size: 238.21 GiB size: 238.21 GiB (100.00%) used: 70.2
    GiB (29.5%) fs: btrfs dev: /dev/nvme0n1p2 maj-min: 259:2
  ID-4: /var/log raw-size: 238.21 GiB size: 238.21 GiB (100.00%) used: 70.2
    GiB (29.5%) fs: btrfs dev: /dev/nvme0n1p2 maj-min: 259:2
  ID-5: /var/tmp raw-size: 238.21 GiB size: 238.21 GiB (100.00%) used: 70.2
    GiB (29.5%) fs: btrfs dev: /dev/nvme0n1p2 maj-min: 259:2
Swap:
  Kernel: swappiness: 133 (default 60) cache-pressure: 100 (default)
  ID-1: swap-1 type: zram size: 7.56 GiB used: 3.98 GiB (52.7%)
    priority: 100 dev: /dev/zram0
Sensors:
  System Temperatures: cpu: 61.0 C mobo: N/A
  Fan Speeds (RPM): N/A
Info:
  Processes: 296 Uptime: 2d 4h 54m wakeups: 28 Memory: 7.56 GiB used: 5.22
  GiB (69.1%) Init: systemd v: 251 default: graphical tool: systemctl
  Compilers: gcc: 12.2.0 clang: 14.0.6 Packages: pm: pacman pkgs: 1289
  libs: 364 tools: paru Shell: Bash v: 5.1.16 running-in: xfce4-terminal
  inxi: 3.3.21