Hi,
I'm currently using Linux Mint but I would like to try Garuda (I've been using Debian based distros for more than 10 years, maybe it's time to move on...)
I tried the USB live version (Garuda KDE Dr460nized Gaming Edition). I like it but I have a problem with the video driver, I suppose. Anyway, the screen on my laptop looks like this: (I mean, what are those horizontal lines on my monitor?)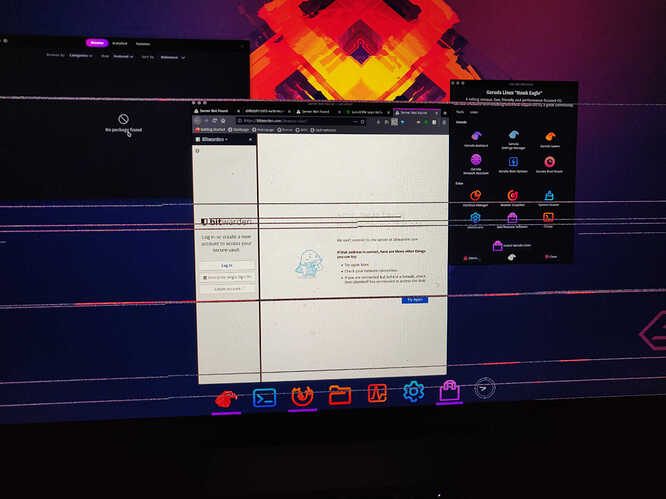 Using Mint the video card works very well with both the video cards (nVidia and Intel), I can also play some 3d games on Steam without any problem
Can you help me to solve the problem?
I would like to see at least the nVidia video card properly working (possibly both, nVidia and Intel) before installing Garuda on my hard drive.
Thank you very much for your time
Francesco
PS
I suppose you need some info on my PC to give me a hand. See below (command result from the terminal, on Linux Mint):
~$ inxi -Fxxxza
System:    Kernel: 5.4.0-72-generic x86_64 bits: 64 compiler: gcc v: 9.3.0 
           parameters: BOOT_IMAGE=/vmlinuz-5.4.0-72-generic root=/dev/mapper/vgmint-root ro quiet splash 
           Desktop: Cinnamon 4.8.6 wm: muffin 4.8.1 dm: LightDM 1.30.0 Distro: Linux Mint 20.1 Ulyssa 
           base: Ubuntu 20.04 focal 
Machine:   Type: Laptop System: HUAWEI product: MACH-WX9 v: M19 serial: <filter> 
           Mobo: HUAWEI model: MACH-WX9-PCB v: M19 serial: <filter> UEFI: HUAWEI v: 1.28 date: 03/15/2019 
Battery:   ID-1: BAT0 charge: 55.8 Wh condition: 56.4/56.3 Wh (100%) volts: 8.6/7.6 model: DYNAPACK HB4593R1ECW 
           type: Li-ion serial: <filter> status: Unknown cycles: 23 
CPU:       Topology: Quad Core model: Intel Core i7-8550U bits: 64 type: MT MCP arch: Kaby Lake family: 6 
           model-id: 8E (142) stepping: A (10) microcode: E0 L2 cache: 8192 KiB 
           flags: avx avx2 lm nx pae sse sse2 sse3 sse4_1 sse4_2 ssse3 vmx bogomips: 31999 
           Speed: 800 MHz min/max: 400/4000 MHz Core speeds (MHz): 1: 800 2: 800 3: 800 4: 801 5: 800 6: 800 
           7: 800 8: 800 
           Vulnerabilities: Type: itlb_multihit status: KVM: Split huge pages 
           Type: l1tf mitigation: PTE Inversion; VMX: conditional cache flushes, SMT vulnerable 
           Type: mds mitigation: Clear CPU buffers; SMT vulnerable 
           Type: meltdown mitigation: PTI 
           Type: spec_store_bypass mitigation: Speculative Store Bypass disabled via prctl and seccomp 
           Type: spectre_v1 mitigation: usercopy/swapgs barriers and __user pointer sanitization 
           Type: spectre_v2 
           mitigation: Full generic retpoline, IBPB: conditional, IBRS_FW, STIBP: conditional, RSB filling 
           Type: srbds mitigation: Microcode 
           Type: tsx_async_abort status: Not affected 
Graphics:  Device-1: Intel UHD Graphics 620 vendor: Huawei driver: i915 v: kernel bus ID: 00:02.0 
           chip ID: 8086:5917 
           Device-2: NVIDIA GP108M [GeForce MX150] vendor: Huawei driver: nvidia v: 460.56 bus ID: 01:00.0 
           chip ID: 10de:1d12 
           Display: x11 server: X.Org 1.20.9 driver: modesetting,nvidia unloaded: fbdev,nouveau,vesa 
           resolution: 3000x2000~60Hz 
           OpenGL: renderer: Mesa Intel UHD Graphics 620 (KBL GT2) v: 4.6 Mesa 20.2.6 direct render: Yes 
Audio:     Device-1: Intel Sunrise Point-LP HD Audio vendor: Huawei driver: snd_hda_intel v: kernel 
           bus ID: 00:1f.3 chip ID: 8086:9d71 
           Sound Server: ALSA v: k5.4.0-72-generic 
Network:   Device-1: Intel Wireless 8265 / 8275 vendor: Huawei driver: iwlwifi v: kernel port: 3000 
           bus ID: 3c:00.0 chip ID: 8086:24fd 
           IF: wlp60s0 state: up mac: <filter> 
           IF-ID-1: virbr0 state: down mac: <filter> 
           IF-ID-2: virbr0-nic state: down mac: <filter> 
Drives:    Local Storage: total: 476.94 GiB used: 61.41 GiB (12.9%) 
           SMART Message: Required tool smartctl not installed. Check --recommends 
           ID-1: /dev/nvme0n1 vendor: Samsung model: MZVLB512HAJQ-00000 size: 476.94 GiB block size: 
           physical: 512 B logical: 512 B speed: 31.6 Gb/s lanes: 4 serial: <filter> rev: EXA7301Q scheme: GPT 
Partition: ID-1: / raw size: 474.75 GiB size: 466.30 GiB (98.22%) used: 61.00 GiB (13.1%) fs: ext4 
           dev: /dev/dm-1 
           ID-2: /boot raw size: 732.0 MiB size: 704.5 MiB (96.24%) used: 403.4 MiB (57.3%) fs: ext4 
           dev: /dev/nvme0n1p2 
           ID-3: swap-1 size: 980.0 MiB used: 0 KiB (0.0%) fs: swap swappiness: 60 (default) 
           cache pressure: 100 (default) dev: /dev/dm-2 
Sensors:   System Temperatures: cpu: 50.5 C mobo: N/A 
           Fan Speeds (RPM): N/A 
Info:      Processes: 297 Uptime: 7m Memory: 7.53 GiB used: 1.91 GiB (25.4%) Init: systemd v: 245 runlevel: 5 
           Compilers: gcc: 9.3.0 alt: 9 Shell: bash v: 5.0.17 running in: gnome-terminal inxi: 3.0.38