Bluetooth is the Devil's technology. On those grounds, I would demand another refund.
The Devil made me do it.

Perhaps, your phone also has been compromised by the evil one. An exorcism may be required for all your electronic devices to return them to a proper functioning state. Stock up on the holy water!!!

My neighbor is actually a pastor of some kind. His son who was a buddy growing up said an exorcism had to be performed on him, though (the pastor, not the son) so I'm not sure he'd be the best holy man to consult if either myself or any of my devices, BT or otherwise need some spirits driven out...

Without a doubt, the evil has infested your household devices. Woe be to you.

Perhaps there is some information that could help here:
Woah.
Woe is me
(And my wicked BT devices)
Perhaps it is BT's inherent evilness that in some way inspired the KDE BT stack Blue Devil's name. I mean, just look at that photo on its project page and tell me Beelzebub doesn't walk with that project's devs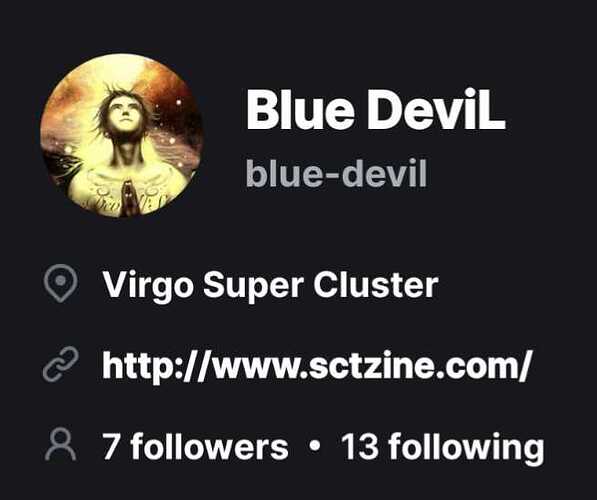 I mean, I knew all about the perils of the Microsoft Clippy Gremlins, but who knew there was such a thing as Bluetooth Demons?
This is really starting to get downright scary.
if garuda team can make "AvdanOS Pro" UI concept into reality that will be next level at UI design . i love this concept so much .........
No, I like window managers
I would like to say that these UI concepts just seems to look nice , i have very small brain to unserstand these UI's, they just look nice but when you will start using and try to adapt to them, then it will require a lot of time, and who knows what option will be placed where after next updates
I will still like to use a WM even if they will be made in reality as in a WM you copy or make some config files and keep editing and evolving it time after time as the way you wish ,if you don't want to tweak then you don't need to do that too! But for these UI(s) after installing them you will need to tweak a lot to get it into your flavours and I am very lazy in these things
Just a concept.
"All design elements and features in this concept belongs to Avdan. This concept can not be copied, modified or distributed without the written permission from Avdan."

No open source???
So wait and hope :-)

If someone can make or develope this concept into a Linux based OS it's very awesome. Great concept at all.

1K

It's under development by me and my team don't worry we will not break your hope

364

@Avdan OS Developer totally real

44

@Avdan OS Developer good luck buddy. It takes time to get those pro features working

23

Any git repos yet?

8

@Pronoy Mukherjee yep but private for now. Accessed by team mates only
Seems it is M$ 12 with conky background wallpaper.

I did not claim the opposite.
He is good at making concepts and presenting them, but that does not make an operating system that works in the long run.
There is hardly anything on Linux that you can't change to your taste.
I don't want to dwell on this too long, but librewisch was faster than he was in putting together a working OS.
Which FOSS OS starts with a private git?
Anyway, if he wants to fundraise up front, I'm not a judge. Everyone is their own admin.
I'm just having a think?
None that i think off

MacBook Air with M2 in dark blue and Garuda Linux as OS.
Just a concept, with the necessary capital, it should be no problem.

Without fan again?
Do you need something like that to surf the www, post pictures on somewhere?
All you need is your imagination and Garuda Linux.
When did you go?

Just curious but how often should I be updating a rolling release distribution like this? I don't use my laptop that often so​

Once a week but I have gone more than 8 weeks easily.