I am glad to announce that @edu4rdshl
Is officially joining Garuda development team.
Thank you so much, @librewish. I hope to contribute to Garuda as much as possible and help to improve -even more- this incredible distro. I'm excited about joining the team.
Seems like a great addition to the team.
Hope they are bring coffee and donuts to the party.
I'm paying for that, such a valuable asset to the team pays for itself!
Welcome @edu4rdshl, very nice to see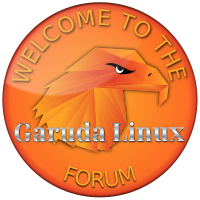 and Team
Welcome @edu4rdshl. I hope your knowledge and skills will boost the never ending journey of Garuda.
Welcome @edu4rdshl. Nice to see another addition to the growing Garuda dev team.
A round of drinks is in order I think.


Welcome @edu4rdshl, I am happy that you belong to this wonderful team and I am sure that they will greatly value your knowledge.
Welcome @edu4rdshl hope you'll take garuda to new heights, excited!
Welcome to the community! Always nice to see a new member here! We all look forward to see what improvements you can contribute.
Mission Destined to Success is being seen live in implementation.
Welcome to Dev Community of Garuda