Full Version is ready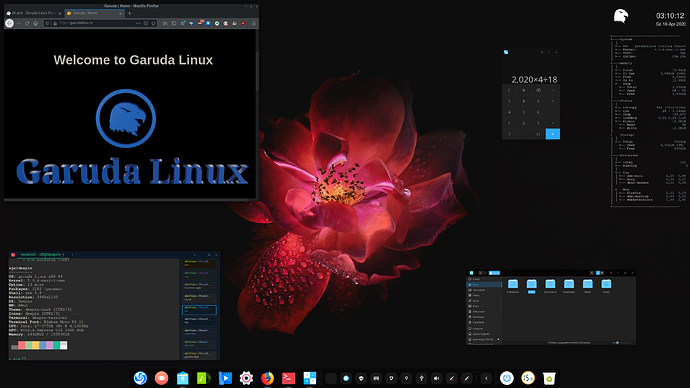 Coming soon?
Tell us if needed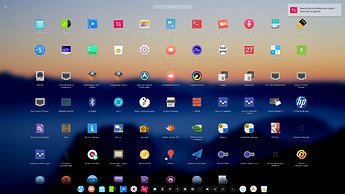 If you build it I will install it. Know what just for fun i'll remove whatever window manager you have as a default (it's either mutter or deepin-wm). Then install kwin and then replace it with:https://forum.manjaro.org/t/kwinft-and-wrapland-drop-in-replacements-for-kwin-and-kwayland/136222 and see if it goes

It shouldn't I did it a while ago. disclaimer fi you do this you will need to also install the system-settings package if you want to use transparency and to clear up a grainy panel blur issue. You just need to decrease the gain.
Here is the test system. I will be adding (I have a few sitting here lol) another 1Tib Samsung SSD...
  Kernel: 5.6.3-arch1-1 x86_64 bits: 64 compiler: gcc v: 9.3.0 
  parameters: BOOT_IMAGE=/boot/vmlinuz-linux 
  root=UUID=f838270e-fb72-47b2-83de-f332064541c4 rw quiet loglevel=3 
  Desktop: Cinnamon 4.4.8 dm: LightDM 1.30.0 Distro: EndeavourOS 
Machine:
  Type: Desktop Mobo: ASUSTeK model: CROSSHAIR VI HERO v: Rev 1.xx 
  serial: <filter> UEFI: American Megatrends v: 6401 date: 12/07/2018 
CPU:
  Topology: 8-Core model: AMD Ryzen 7 1800X bits: 64 type: MT MCP arch: Zen 
  family: 17 (23) model-id: 1 stepping: 1 microcode: 8001137 
  L2 cache: 4096 KiB 
  flags: avx avx2 lm nx pae sse sse2 sse3 sse4_1 sse4_2 sse4a ssse3 svm 
  bogomips: 127803 
  Speed: 2211 MHz min/max: 2200/4000 MHz boost: disabled Core speeds (MHz): 
  1: 2193 2: 2179 3: 2202 4: 2192 5: 2195 6: 2195 7: 2195 8: 2203 9: 2196 
  10: 2180 11: 2192 12: 2194 13: 2198 14: 2194 15: 2195 16: 2229 
  Vulnerabilities: Type: itlb_multihit status: Not affected 
  Type: l1tf status: Not affected 
  Type: mds status: Not affected 
  Type: meltdown status: Not affected 
  Type: spec_store_bypass 
  mitigation: Speculative Store Bypass disabled via prctl and seccomp 
  Type: spectre_v1 
  mitigation: usercopy/swapgs barriers and __user pointer sanitization 
  Type: spectre_v2 mitigation: Full AMD retpoline, IBPB: conditional, STIBP: 
  disabled, RSB filling 
  Type: tsx_async_abort status: Not affected 
Graphics:
  Device-1: AMD Vega 10 XL/XT [Radeon RX Vega 56/64] vendor: ASUSTeK 
  driver: amdgpu v: kernel bus ID: 0d:00.0 chip ID: 1002:687f 
  Display: x11 server: X.Org 1.20.8 driver: amdgpu,ati 
  unloaded: fbdev,modesetting,vesa resolution: 1920x1080~60Hz 
  Message: Unable to show advanced data. Required tool glxinfo missing. 
Audio:
  Device-1: AMD Vega 10 HDMI Audio [Radeon Vega 56/64] driver: snd_hda_intel 
  v: kernel bus ID: 0d:00.1 chip ID: 1002:aaf8 
  Device-2: AMD Family 17h HD Audio vendor: ASUSTeK driver: snd_hda_intel 
  v: kernel bus ID: 0f:00.3 chip ID: 1022:1457 
  Sound Server: ALSA v: k5.6.3-arch1-1 
Network:
  Device-1: Intel I211 Gigabit Network vendor: ASUSTeK driver: igb 
  v: 5.6.0-k port: e000 bus ID: 05:00.0 chip ID: 8086:1539 
  IF: enp5s0 state: up speed: 1000 Mbps duplex: full mac: <filter> 
Drives:
  Local Storage: total: 10.23 TiB used: 232.95 GiB (2.2%) 
  SMART Message: Unable to run smartctl. Root privileges required. 
  ID-1: /dev/nvme0n1 vendor: Samsung model: SSD 970 EVO 250GB 
  size: 232.89 GiB block size: physical: 512 B logical: 512 B 
  speed: 31.6 Gb/s lanes: 4 serial: <filter> rev: 1B2QEXE7 scheme: GPT 
  ID-2: /dev/sda vendor: Samsung model: SSD 860 EVO 1TB size: 931.51 GiB 
  block size: physical: 512 B logical: 512 B speed: 6.0 Gb/s 
  serial: <filter> rev: 3B6Q scheme: GPT 
  ID-3: /dev/sdb type: USB vendor: Western Digital model: WD easystore 25FB 
  size: 9.10 TiB block size: physical: 4096 B logical: 512 B 
  serial: <filter> rev: 3004 scheme: GPT 
Partition:
  ID-1: / raw size: 231.91 GiB size: 227.27 GiB (98.00%) 
  used: 7.37 GiB (3.2%) fs: ext4 dev: /dev/nvme0n1p2 
  ID-2: /home raw size: 931.51 GiB size: 915.89 GiB (98.32%) 
  used: 209.95 GiB (22.9%) fs: ext4 dev: /dev/sda1 
Sensors:
  System Temperatures: cpu: 38.4 C mobo: N/A gpu: amdgpu temp: 24 C 
  Fan Speeds (RPM): N/A gpu: amdgpu fan: 0 
Info:
  Processes: 346 Uptime: 1h 41m Memory: 31.36 GiB used: 2.55 GiB (8.1%) 
  Init: systemd v: 245 Compilers: gcc: 9.3.0 Shell: bash v: 5.0.16 
  running in: gnome-terminal inxi: 3.0.38

LOL now we have to do this...
https://forum.manjaro.org/t/should-i-make-a-sbk-deepin-spin/136381
Nice to have an experienced tester in the forum. One more time.
Welcome
Don't waste your time...I think deepin might be dead

I was going to try what I mentioned before on another deepin install and the base install is a hot mess.
Minimal is ready with little bugs.
Ok I will keep an eye out for the link.
Live-ISO has some transparency problems with conky, Deepin-Garuda installer is behind conky window.
But you found in desktop folder too. On metall install conky is transparent. All fine. Pictures in post #2.
 neofetch --off                                                                     
[email protected] 
-------------------- 
OS: garuda linux x86_64 
Kernel: 5.6.4-zen1-1-zen 
Uptime: 39 mins 
Packages: 1199 (pacman) 
Shell: zsh 5.8 
Resolution: 3840x2160 
DE: Deepin 
WM: KWin 
Theme: deepin-dark [GTK2/3] 
Icons: deepin [GTK2/3] 
Terminal: deepin-terminal 
Terminal Font: Nimbus Mono PS 11 
CPU: Intel i7-3770K (8) @ 4.100GHz 
GPU: NVIDIA GeForce GTX 1060 6GB 
Memory: 3610MiB / 15956MiB

Sorry this very american...No Shit!

It's a compliment lol.


I have wrong keyboard keys so I search for questionkey

I sad it is not ready now, but what is #american

american is the same as german. you know like united…states…of…america…so most people from the USA call themselves american. That is an american figure of speech when we are very impressed with something. and no I have no idea where it comes from.
All fine on metall install, qwertz keyboard


See post #2 for new picture.
we will remove conky autostart
for deepin edition.
okay i found out why live iso conky isnt transparant.
its because we are using conky config for i3 in live.
i will change this.
Full Version is ready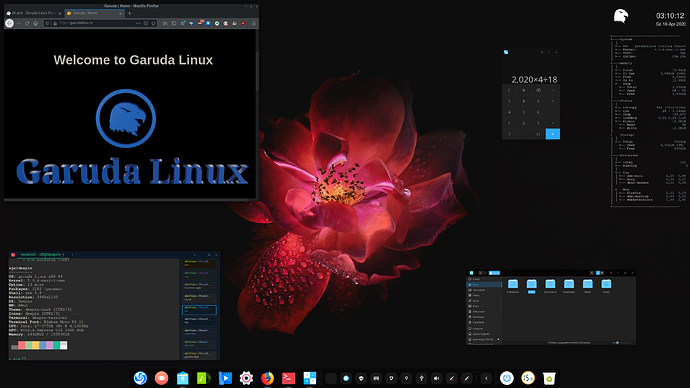 I'll play more tomorrow. Installer is beautitiful. Live ISO as well. Metal boot same. I like the addition of the guest account. Thank you for removing system monitor as we have conky. Besides the fact that it is broken atm

I also like the scrolling wallpapers on the live ISO I have used many of them before. Feels like home.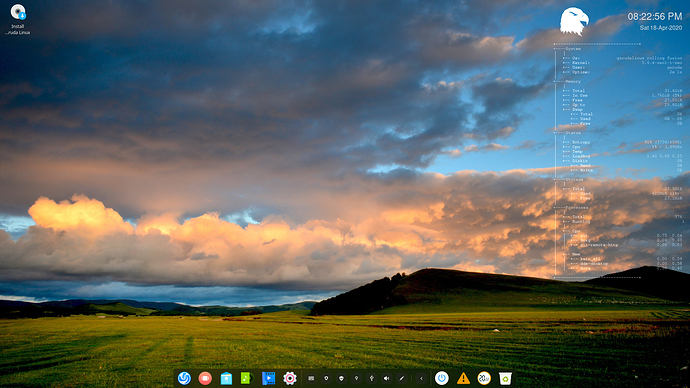 Forgot something
Congratulations to @librewish and @SGS

So at the moment system monitor is working but I haven't updated yet. There are too many issues floating around right now. I do have a question @SGS @librewish . Endeavour has an update notifier. They are having trouble figuring out where it needs to be to auto start on boot. I'll poke around a bit you would think it is similarly done like garuda notifier.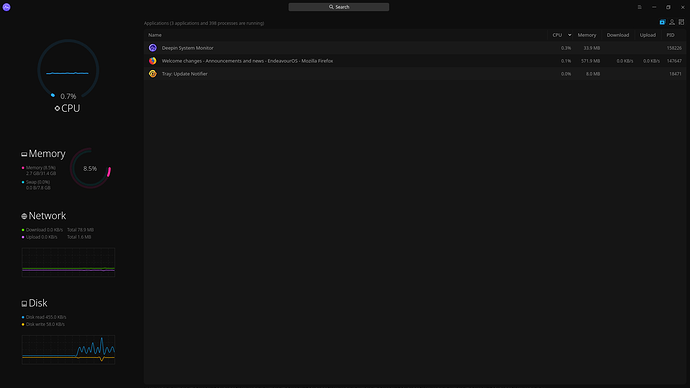 Also I tried to explain this earlier but if you don't have systemsettings (edit sorry typo here no -)for kwin installed you will have the following graphical graininess with transparency on the application launcher and the settings bar.
This grain inspired me for new wallpapers

Maybe I deepl did not understand the question???
It work now for you?
With autostart in deepin?
Or you have a new solution?