There is the screenshot of this issue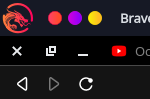 Use/try Firedragon (Brave is not brave)
Read
please
and post
inxi -Fxxxza

as text!
Even if you personally think it is unnecessary.
Some extensions I use does not exist in the firefox store
You must know what you do.
It's either a KDE or Brave problem, what has your search turned up so far?
a mixture of both in my opinion
can I tell the panel to except brave ?
Do not post like in chat, please.
Try turning off/on system menu bars in Braves menu.
My issue is very simple that's why it looks different
yupp thanks you : Use system title bar and borders should be turned on thanks