After my struggles with trying to fix my laptops network dying after sleep (thread here) and eventually somehow hiding garuda from efi, I installed a fresh ISO of the garuda KDE edition on my laptop.
All seems well and similar to my previous installation, except that I cannot use bluetooth anymore at all. When opening the bluetooth panel it just shows "No bluetooth adapters found" (in finnish). If I then try to "add a new device", it just shows the bluetooth connection/discovery dialogue, but doesn't seem to find anything.
rfkill doesn't show it as blocked:
ID TYPE      DEVICE                 SOFT      HARD
 0 wlan      ideapad_wlan      unblocked unblocked
 1 bluetooth ideapad_bluetooth unblocked unblocked
 3 wlan      phy0              unblocked unblocked
 4 bluetooth hci0              unblocked unblocked

bluetoothctl seems a bit weird though:
>bluetoothctl
Agent registered
[bluetooth]# list
[bluetooth]#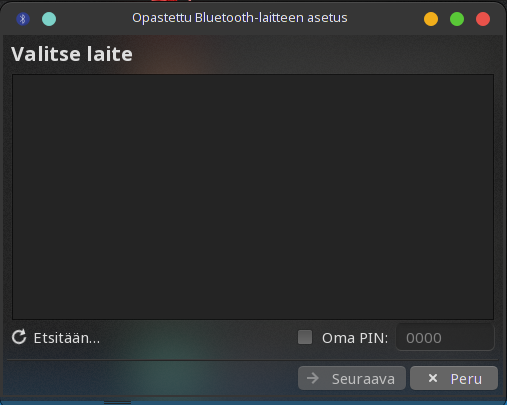 Any help would be appreciated!