Hi there,
After latest system upgrades :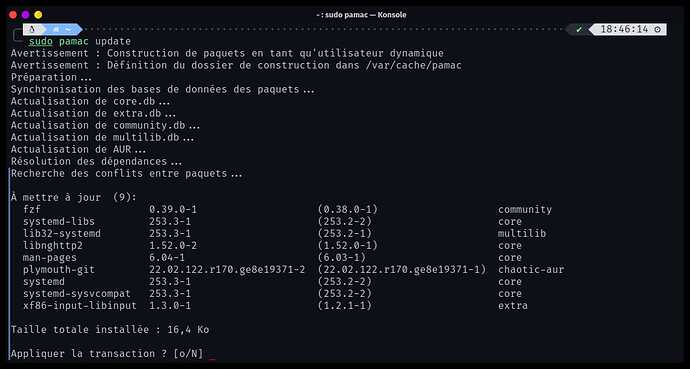 X11 fails to start after startup and i am presented with a terminal in TTY1.
I tried logging in on this terminal and run startx, with no success. I don't know X11 well enough to understand the error messages tho. (something about xterm and xclock not being found, if i remember correctly...).
Restoring the pre-update snapshot from grub fixes the problem.
I tried reinstalling the upgrades after restoration, with the same result.
Not sure if this issue is specific to my install or whatever, but thanks for the help.
System:
Kernel: 6.2.9-zen1-1-zen arch: x86_64 bits: 64 compiler: gcc v: 12.2.1
parameters: BOOT_IMAGE=/@/boot/vmlinuz-linux-zen
root=UUID=9524c41d-7c0a-4cf5-8fb0-d3ae1cafffe9 rw rootflags=subvol=@
quiet quiet splash rd.udev.log_priority=3 vt.global_cursor_default=0
resume=UUID=b2ca9daf-41fe-4f98-b519-e2dd36230aa8 loglevel=3
xhci_hcd.quirks=270336 ibt=off
Desktop: KDE Plasma v: 5.27.3 tk: Qt v: 5.15.8 wm: kwin_x11 dm: SDDM
Distro: Garuda Linux base: Arch Linux
Machine:
Type: Desktop System: ASUS product: N/A v: N/A serial: N/A
Mobo: ASUSTeK model: ROG STRIX B550-A GAMING v: Rev X.0x serial: <filter>
UEFI: American Megatrends v: 2803 date: 04/27/2022
CPU:
Info: model: AMD Ryzen 5 5600 socket: AM4 bits: 64 type: MT MCP arch: Zen 3+
gen: 4 level: v3 note: check built: 2022 process: TSMC n6 (7nm)
family: 0x19 (25) model-id: 0x21 (33) stepping: 2 microcode: 0xA20120A
Topology: cpus: 1x cores: 6 tpc: 2 threads: 12 smt: enabled cache:
L1: 384 KiB desc: d-6x32 KiB; i-6x32 KiB L2: 3 MiB desc: 6x512 KiB
L3: 32 MiB desc: 1x32 MiB
Speed (MHz): avg: 3500 min/max: 2200/4467 boost: enabled
base/boost: 3500/4450 scaling: driver: acpi-cpufreq governor: performance
volts: 1.1 V ext-clock: 100 MHz cores: 1: 3500 2: 3500 3: 3500 4: 3500
5: 3500 6: 3500 7: 3500 8: 3500 9: 3500 10: 3500 11: 3500 12: 3500
bogomips: 84004
Flags: avx avx2 ht lm nx pae sse sse2 sse3 sse4_1 sse4_2 sse4a ssse3 svm
Vulnerabilities: <filter>
Graphics:
Device-1: AMD Navi 22 [Radeon RX 6700/6700 XT/6750 XT / 6800M/6850M XT]
driver: amdgpu v: kernel arch: RDNA-2 code: Navi-2x process: TSMC n7 (7nm)
built: 2020-22 pcie: gen: 4 speed: 16 GT/s lanes: 16 ports: active: DP-2
empty: DP-1,DP-3,HDMI-A-1 bus-ID: 0d:00.0 chip-ID: 1002:73df
class-ID: 0300
Device-2: Logitech Webcam C270 type: USB driver: snd-usb-audio,uvcvideo
bus-ID: 2-2.1:4 chip-ID: 046d:0825 class-ID: 0102 serial: <filter>
Display: x11 server: X.Org v: 21.1.8 with: Xwayland v: 23.1.1
compositor: kwin_x11 driver: X: loaded: amdgpu unloaded: modesetting,radeon
alternate: fbdev,vesa dri: radeonsi gpu: amdgpu display-ID: :0 screens: 1
Screen-1: 0 s-res: 2560x1440 s-dpi: 96 s-size: 677x381mm (26.65x15.00")
s-diag: 777mm (30.58")
Monitor-1: DP-2 mapped: DisplayPort-1 model: AOC Q3279WG5B
serial: <filter> built: 2017 res: 2560x1440 hz: 60 dpi: 90 gamma: 1.2
size: 725x428mm (28.54x16.85") diag: 842mm (33.1") ratio: 15:9 modes:
max: 2560x1440 min: 720x400
API: OpenGL v: 4.6 Mesa 23.0.1 renderer: AMD Radeon RX 6700 XT (navi22
LLVM 15.0.7 DRM 3.49 6.2.9-zen1-1-zen) direct-render: Yes
Audio:
Device-1: AMD Navi 21/23 HDMI/DP Audio driver: snd_hda_intel v: kernel pcie:
bus-ID: 2-2.1:4 chip-ID: 046d:0825 gen: 4 class-ID: 0102 speed: 16 GT/s
serial: <filter> lanes: 16 bus-ID: 0d:00.1 chip-ID: 1002:ab28
class-ID: 0403
Device-2: AMD Starship/Matisse HD Audio vendor: ASUSTeK
driver: snd_hda_intel v: kernel pcie: gen: 4 speed: 16 GT/s lanes: 16
bus-ID: 0f:00.4 chip-ID: 1022:1487 class-ID: 0403
Device-3: Logitech Webcam C270 type: USB driver: snd-usb-audio,uvcvideo
Device-4: ASUSTek STRIX SOUND CARD type: USB
driver: hid-generic,snd-usb-audio,usbhid bus-ID: 3-1:2 chip-ID: 0b05:180d
class-ID: 0300
API: ALSA v: k6.2.9-zen1-1-zen status: kernel-api tools: N/A
Server-1: PipeWire v: 0.3.67 status: n/a (root, process) with:
1: pipewire-pulse status: active 2: wireplumber status: active
3: pipewire-alsa type: plugin 4: pw-jack type: plugin
tools: pactl,pw-cat,pw-cli,wpctl
Network:
Device-1: Qualcomm Atheros QCA9377 802.11ac Wireless Network Adapter
vendor: AzureWave driver: ath10k_pci v: kernel pcie: gen: 1 speed: 2.5 GT/s
lanes: 1 bus-ID: 07:00.0 chip-ID: 168c:0042 class-ID: 0280
IF: wlp7s0 state: down mac: <filter>
Device-2: Intel Ethernet I225-V vendor: ASUSTeK driver: igc v: kernel
pcie: gen: 2 speed: 5 GT/s lanes: 1 port: N/A bus-ID: 0a:00.0
chip-ID: 8086:15f3 class-ID: 0200
IF: enp10s0 state: up speed: 1000 Mbps duplex: full mac: <filter>
Bluetooth:
Device-1: IMC Networks type: USB driver: btusb v: 0.8 bus-ID: 1-7.2:4
chip-ID: 13d3:3501 class-ID: e001
Report: bt-adapter ID: hci0 rfk-id: 0 state: up address: <filter>
Drives:
Local Storage: total: 1.15 TiB used: 411.62 GiB (34.8%)
ID-1: /dev/nvme0n1 maj-min: 259:0 vendor: Samsung model: SSD 950 PRO 256GB
size: 238.47 GiB block-size: physical: 512 B logical: 512 B speed: 31.6 Gb/s
lanes: 4 type: SSD serial: <filter> rev: 2B0QBXX7 temp: 30.9 C scheme: GPT
SMART: yes health: PASSED on: 1y 216d 21h cycles: 3,802
read-units: 90,291,932 [46.2 TB] written-units: 53,485,779 [27.3 TB]
ID-2: /dev/nvme1n1 maj-min: 259:5 vendor: Kingston model: SNV2S500G
size: 465.76 GiB block-size: physical: 512 B logical: 512 B speed: 63.2 Gb/s
lanes: 4 type: SSD serial: <filter> rev: ELFK0S.6 temp: 28.9 C scheme: GPT
SMART: yes health: PASSED on: 9 hrs cycles: 60
read-units: 1,519,069 [777 GB] written-units: 1,058,943 [542 GB]
ID-3: /dev/sda maj-min: 8:0 vendor: Crucial model: CT256MX100SSD1
family: Micron Client SSDs size: 238.47 GiB block-size: physical: 4096 B
logical: 512 B sata: 3.1 speed: 6.0 Gb/s type: SSD serial: <filter>
rev: MU02 temp: 31 C
SMART: yes state: enabled health: PASSED on: 359d 6h cycles: 6964
written: 12.29 TiB Old-Age: UDMA CRC errors: 205
ID-4: /dev/sdb maj-min: 8:16 vendor: Samsung model: SSD 840 PRO Series
family: based SSDs size: 238.47 GiB block-size: physical: 512 B
logical: 512 B sata: 3.1 speed: 6.0 Gb/s type: SSD serial: <filter>
rev: 6B0Q temp: 24 C
SMART: yes state: enabled health: PASSED on: 3y 363d 18h cycles: 4689
written: 13.68 TiB
Partition:
ID-1: / raw-size: 457.65 GiB size: 457.65 GiB (100.00%)
used: 36.37 GiB (7.9%) fs: btrfs block-size: 4096 B dev: /dev/nvme1n1p3
maj-min: 259:8
ID-2: /boot/efi raw-size: 300 MiB size: 299.4 MiB (99.80%)
used: 608 KiB (0.2%) fs: vfat block-size: 512 B dev: /dev/nvme1n1p1
maj-min: 259:6
ID-3: /home raw-size: 457.65 GiB size: 457.65 GiB (100.00%)
used: 36.37 GiB (7.9%) fs: btrfs block-size: 4096 B dev: /dev/nvme1n1p3
maj-min: 259:8
ID-4: /var/log raw-size: 457.65 GiB size: 457.65 GiB (100.00%)
used: 36.37 GiB (7.9%) fs: btrfs block-size: 4096 B dev: /dev/nvme1n1p3
maj-min: 259:8
ID-5: /var/tmp raw-size: 457.65 GiB size: 457.65 GiB (100.00%)
used: 36.37 GiB (7.9%) fs: btrfs block-size: 4096 B dev: /dev/nvme1n1p3
maj-min: 259:8
Swap:
Kernel: swappiness: 133 (default 60) cache-pressure: 100 (default)
ID-1: swap-1 type: zram size: 31.23 GiB used: 512 KiB (0.0%) priority: 100
dev: /dev/zram0
ID-2: swap-2 type: partition size: 7.81 GiB used: 0 KiB (0.0%)
priority: -2 dev: /dev/nvme1n1p2 maj-min: 259:7
Sensors:
System Temperatures: cpu: 43.5 C mobo: N/A gpu: amdgpu temp: 43.0 C
mem: 40.0 C
Fan Speeds (RPM): N/A gpu: amdgpu fan: 0
Info:
Processes: 395 Uptime: 4m wakeups: 0 Memory: 31.23 GiB used: 4.1 GiB (13.1%)
Init: systemd v: 253 default: graphical tool: systemctl Compilers:
gcc: 12.2.1 Packages: pm: pacman pkgs: 1346 libs: 340
tools: octopi,pamac,paru Shell: garuda-inxi (sudo) default: Bash v: 5.1.16
running-in: konsole inxi: 3.3.26
Garuda (2.6.16-1):
System install date:     2023-03-15
Last full system update: 2023-04-04
Is partially upgraded:   No
Relevant software:       snapper NetworkManager dracut
Windows dual boot:       Yes
Failed units: