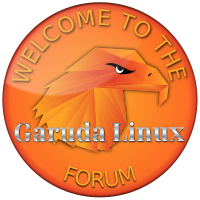 Tired grey wolf checking in to see if I can find an OS that supports the values of Freedom and liberty without monolithic control. So tired of the Redmond offerings and yes Apple just works but I like more than a "magic" box . I hope this is it
Giiday and Merry Christmas from Oz.
Never join forums but after 4 years of distro hopping, i got to say.
Thank you.
I love this distro, tried Gnome , KDE, but have settled on i3.
Been using gnome 3.xx last year or 2 but the screen lock / power off / screen saver glitch
(which apparently is a feature NOT a glitch, drove me nuts.
and after a year of running Opensuse , (auto snapshots) i was changing continually again.
I am now running i3 , once I got it to play nice with dual screen it is great.
Love the auto BTRFS snapshot, (is what got me in, I dont have technical ability to do it myself).
I am nowhere near developer just a middle aged user.
so this is the right blend of just works and learning.
Thank you very much.
Nebo
Welcome @Nebo
feel well in forum and Merry Christmas from Garuda Team
Hi from Sweden!
Finally made the switch from Windows to Linux this summer and have been distro-hopping somewhat, but settled with Elementary OS on my laptop. Built a new PC recently and the plan was to run Elementary OS there aswell, but I heard of Garuda which is more aimed to be for gaming which I plan to do. So I tried Garuda KDE and Cinnamon and settled with Cinnamon which I find more appealing for me.
I've used Linux on and off for about 14 years but mostly hosted simple servers for hobbyist purposes. But have always been using debian/ubuntu based distros since I'm most familiar with those. My main usage for my PC is for photography and astrophotography processing aswell as gaming and regular use. Found some really nice applications like ART and Darktable which seems to be good (or even better) replacements for Lightroom.
All is well with Garuda, except some minor things that I will try to find the answer for i this forum, thanks to the Garuda team btw!
Grüß Gottle from southwest Germany!
My name is Andreas and I'm a 58 years old linux user. At the moment I use Kubuntu (21.10) as my daily driver. As I heard about Garuda-Linux I decided to give it a shot (garuda-kde-ultimate-linux). I'm really impressed. I think I'm going to switch to Garuda when I've learned a little more how to handle it.
A big thumb up to the developers and maintainers. Thank you for your awesome work!
I wish you all a happy new year, health and wealth.
Bleibet gsond!
(Stay well!)
Welcome @Chiefcomesinsight, hope we live up to your expectations.
Happy New Year to you as well.
hahaha i7-3770K was what I just upgraded from! Idk why I find that funny, but it tickled me lol I've still got it; was an old Dell Optiplex and I pulled the m/b and power switch (because Dell sucks and has to make everything proprietary because they like to be a pain in the arse and I was too lazy to solder the power switch +/- wires of the new case to the red/black on the damn light-up LED power button, and the motherboard plug just HAS to be a non-standard multifunction block of pins for all the front panel crap smh) into a new case and added an old AMD Radeon R9 390 8GB GPU (the slimline Dell case wouldn't fit it, ugh!) and bumped up the RAM and added an old 120GB Intel SSD to run the OS on, she was pretty snappy and even gamed decently well for what she was/is! hahaha....but I built this one over the summer so now she just sits over there in the corner GPU mining ZEC lol or when the wife wants to get slayed in Call of Duty haha....so yeah, that thing has brought me a lot of years of good service and still is!
Beautiful story, right?
haha
Hello everyone - long time linux gentoo debian user joining here.
Hi all,
long time Manjaro user here, but your KDE Dr460nized version finallay made me switch to Garuda. I have never seen such a beautiful and polished distro. Thank you for your hard work!
Hello everyone I am kaushal Kishore... btw i waned to join garuda as a developer and contribute to this project the max i can. I know C++ and learning flutter.
Hey their buddy, nice to see new users keen on contributing. I think someone already posted the link to the Garuda project on Gitlab for you.
Start there, and see if there is anything that catches your fancy that you might want to contribute code to.
Welcome to Garuda.
Hello everyone,
Congratulations on a great distro! I have recently installed Garuda Linux (210107 Barebones KDE Edition) and thought I introduce myself before I share my initial observations in a separate topic.
I am an old time computer engineer by training and used to do real time embedded software development using C (signalling protocols in mobile phone systems ) in the 1990s. That's how old I am

I moved away from software development after the 90s but my interest in playing with computers (mainly as a user) still continues.
Even though I did development in the 90s (now generally referred to as coding) in Windows and Unix environments (and I was aware of Linux then), I only got to install Linux on my laptop for the first time in 2011. It was Ubuntu like most newcomers to Linux those days. Then I moved to Mint (with Cinnamon) as it was a more tweaked version of Ubuntu. Later when I changed my laptop in 2015, I had to install Manjaro (Cinnamon I think) out of necessity as Ubuntu and variants weren't recent enough to support laptops with NVMe drives (due to old kernel). That was when I discovered rolling release distributions and it was the point of no-return to fixed release distros. After some good time with Manjaro and moving on to a new laptop, I had to try something new and it had to be real Arch based. That's when I discovered Antergos and set it up with Gnome. While Antergos was good, as I got more experience with Arch, I removed all Antergos specific modifications and converted my install to a pure Arch system (changed DE to KDE as well since KDE got leaner with Plasma 5). Good thing I did that, because after a while Antergos was disbanded and I would have to do it anyway. So I was happily living with Arch since 2016 until I got a new laptop recently.
I knew I was going to install Arch (or an Arch based system) on my new laptop, but I wasn't sure how to go about it. I briefly thought about installing Arch the Arch way, but it seemed too much work. So I checked out some of the current Arch based distros including Manjaro, Endeavaour, Reborn and Garuda. Garuda seemed the most interesting out of all in terms of including new innovations in Linux such as BTRFS Timeshift snapshots (which is great for rolling release distros), ZRAM, etc. While I am not a gamer, as my new laptop is powerful enough, performance enhancements and peace of mind features (like snapshots) made me choose Garuda.
I chose to install Barebones KDE edition as I prefer vanilla setups and only add what I need when I need. My laptop is a Lenovo Thinkpad E14 Gen2 with AMD Ryzen 7 4700U with integrated Radeon Graphics, 16GB RAM and 2x 256GB SSDs. I dual boot with Windows as I sometimes (unfortunately) need Windows. I am used to setting up Windows-Linux dual boot on the same disk. But as I have 2 SSDs in my new laptop, it was a simple matter of installing Windows on one SSD and installing Garuda on the other SSD. Garuda (i.e. its Grub setup) recognized Windows without a glitch and I have been using my new system without any problem for a few days now.
Sorry to make this so long, but I thought I'd give some background before I share my first observations in a separate topic. Here is the link:
https://forum.garudalinux.org/t/my-initial-observations-on-garuda/3229
Thank you again to all those who are involved in this project and keep up the good work!
Hi i'm Logan2269, new to linux. I was tired of microsoft windows and decided to try something diffetent.
watched a lot of youtube videos on linux and the variety of different distro's. kept checking out distrowatch for something that appealed to my intrest. then came across a video on Garuda kde dragonized edition. im not much of a gamer but i do play 2 games frequently. Diablo 3 and COD WARZONE. i saw how easy it is to install the games with Lutris. i was able to get diablo3 playing with no problems. So far i am very pleased that i chose Garuda Linux. I keep telling my friend to switch over from windows that they wouldnt regret it. Thank You.
Thanks to the The Garuda Team for their support and forum, I'm glad to make this my 359th forum. I forgot my password already. I have recently come to the linux world after purchasing a Raspberry Pi to stream games to my living room TV. Within the past month I have starting snooping and introduced myself to Linux Mint, Solus, Debian and now Garuda. Each distro I have found useful for specific machines I have and their uses/abilities. Garuda is on my main laptop and I don't intend on trying anything else! I am very excited for this and I hope to educate myself and be as proficient here as the many years of Microsoft use has gotten me. I wish I could stick with this for good, but alas... I have too many specialty programs in use to be able to walk away for good. For the times I don't need Windows, I'll be here!
Hello:
I have used Fedora back when I attended ITT Tech in 2005, and played with Ubuntu here and there in the past years. I have been seriously using Linux in the beginning of this year with Ubuntu 20.10 on my main laptop with Big Sur mods and used it as a replacement to Windows.
This past Monday, I watched YouTube videos about Garuda Linux Dragonized, and I loved the look. I installed it on my second laptop and I am impressed with the operability and workflow.
I am thinking of using Garuda to replace Windows on my main desktop I use for work and school.
Hello all.
I'm from Germany.I've been using Linux exclusively for eleven years.My computers have seen many Linux distros.Then two years ago I finally switched to KDE.I've been using Garuda "Dr460nized KDE edition" for six weeks now. (Before that the distro of my choice was Manjaro KDE) I am still thrilled.Garuda runs great without any complaints.On my two eight GiB RAM machines this distro is remarkably fast.The boot process,opening applications...I didn't know before that KDE can be so fast.
Also the "total package" of Garuda Linux convinced me.The automatic snapshot function is very inovativ.This should have every Linux distro in my opinion...great!Very user friendly,very nice preconfigured.This also applies to the other Garuda distributions.Even the Garuda website is very clear and good looking.(Why do I have to think of the Debian website right now...!?


)
So,long story short...
Thanks to the Garuda team, please keep up the good work!
Greetings from Germany

Hi Shamrock and welcome.
Here, you'll find lots of ex-MJ users, so you may see some familiar faces.
Can't argue with your logic or deductions, regarding Garuda - it hooked me and many others, certainly.
Enjoy yourself, here.