I tried Installing Garuda KDE. when i open installer it shows this. what is the problem here? plz help.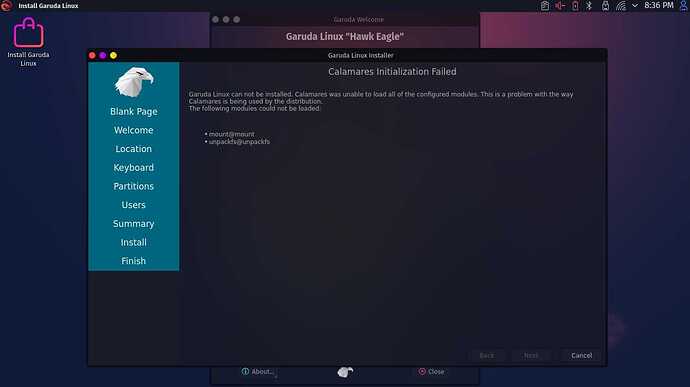 Did it pass the checksum?
I am sorry, I don't know what is that... I booted it from USB (although it took few minutes on on command while booting up), then I clicked on installer and this screen came up.
Its a broken iso (refreshed yesterday), some Calamares changes were missing


Working Dr460nized finished building already, download here
Ok But I just Downloaded the ISO from Official website and created a bootable disk with belena software. how can it be broken? should I use other software to make bootable USB?
We refreshed isos yesterday and noticed too late that the Calamares config was faulty. To fix this new isos have been build but links are not updated yet as not all builds have been finished yet. You did nothing wrong. Sorry for the inconvenience

So the link you just provided me is working? It doesn't have any problem, right? I'm gonna download it now. Thanks
Yes, thats the updated version built today (210329)
This topic was automatically closed 2 days after the last reply. New replies are no longer allowed.