Hi,
So looking at the new updates for the gnome version, i decided to reapply my configs to use the new version for Garuda ver. "Hawk Eagle". Therefore, I did the following:
Garuda Welcome > Garuda Assistant > Maintenance > "APPLY NEW CONFIGS/RESTORE DEFAULTS CONFIGS"
After this, when i press the super key, the view of my workspace looks like this: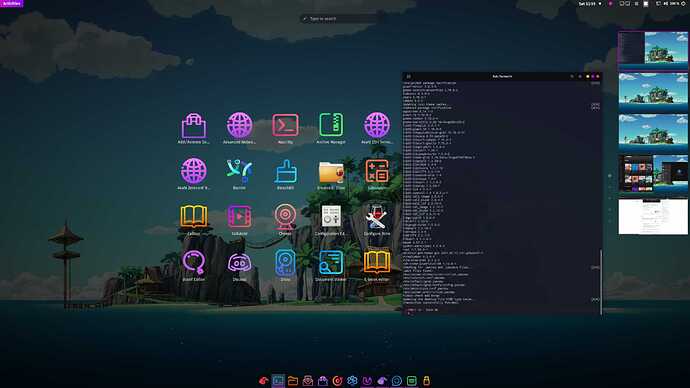 Looks like restoring from timeshift doesn't help. Maybe it's an extension? Nothing is set to just "Super" in my keyboard shortcuts.
Edit: Also, logging out freezes the computer instead. What have i done?
Edit2: Timeshift fixed the logging out freezing issue.
Edit3: Looks like a re-log kinda fixes this problem, but i can reproduce the issue by doing the following:
Ctrl + a: to view all apps
Exit all apps screen by pressing escape twice or "super+a"
Now when pressing super key, it looks like the above image.
Logout and log back in to fix.
Best workaround: Disable 'dash to dock' extension. No app bar on the bottom anymore, but no problems with app view along with workspace overview being displayed at the same time.
Better workaround: Alt+F2 to enter custom command and enter 'r' to relaunch gnome desktop environment
Workaround: Exit view apps screen by pressing super key instead. (Application view is now unscrollable until gnome DE is refreshed)