Pamac won't open on fresh install Garuda Gnome. The problem occurred after updating the newly installed system
It's because this latest update:
libpamac-aur 11.2.0-5
On libpamac-aur 11.2.0-0 it works fine
This is fixed in the repos now.
Yes mine too, on Cinnamon. I am new to linux, and it took me a few hours to resolve as I missed
the "[ALPM-SCRIPTLET] To follow user config changes open up Garuda Assistant & hit apply configs"
message in the .log file; once done Pamac working fine. Hope this post helps someone.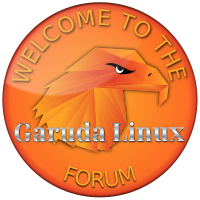 Hello everybody! Running garuda-update fixed the problem for me.
Hi there Art, and welcome to the forum from a fellow Canadian. It's nice to see a lot more Canadians adopting Garuda.

I encountered it as well, I just waited for a few hours and it was fixed.
This is why I love Linux, its problems get patched quickly. I cannot expect that on a commercial Microsoft OS, we have to wait for the second Tuesday for the Windows update schedule. That is assuming that Microsoft agenda for the month comes with it the actual solution to the bug users encounter.
This topic was automatically closed 2 days after the last reply. New replies are no longer allowed.