Hello Garuda!
I AM A GARUDA USER but with problems, please help me, so I return safely! SOS
Don't read this if you don't care:
=start of story
Since last winter I was having Hard Freezes. I switched to Garuda Linux from Windows. I was having hard freezing during kernel updates, destroying the system. I fresh installed Garuda 14 times (got very good at recovering everything), different flavors (I hope Wayfire evolves), now I was trying another distro, still the same problem. Changed every piece of my PC except Hard Drives, enhanced cooling, everything.
I was going to call an exorcist. But a guy told me to do the "S.M.A.R.T" thing.
=end of story=
My most important HDD with all the project files I have,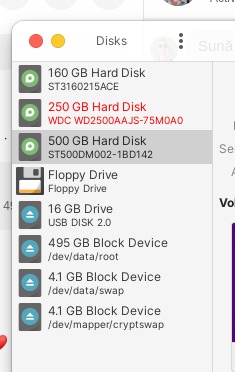 Now, problem is, I was trying to evacuate everything with this type of command:
cp -Rfpv "/media/kitwar/DISK3/$1" "/home/kitwar/Documents/Alert/SMBH/DISK3/$1" 2> "/home/kitwar/Documents/Alert/$1.log"
It hard freezes the PC in the process.
Most important folders, I did recover, with some corrupted files.
WHAT I NEED and can't find online...
A way to copy files from the fire, without mounting it because it hard freezes the system, to this 500gb HDD I have (with system on it), with logs on corrupted files.
Tutorials talk about cloning to a fresh drive. I don't have a fresh bigger drive, I have this 500 one with system on it. I need to copy to a folder inside it.
And I really want logs of corrupted files so I can check for a working version on cloud (last sync a few months ago, why is MEGA so hard on Linux).
PLEASE Garuda users are the only friends I have on Linux.