There have always been issues in the forum with systems broken by software centers, but it seems like there have been more than ever lately. Pamac is the worst offender, but I think I have seen Octopi causing grief for people as well.
It's fine to tell people they should only use the GUI for searching and they should install software from the terminal, but typically by the time a new person gets that advice something is already broken and they are panicked or frustrated.
It's a little confusing that there is a friendly "Add/Remove Software" button built into the menu, where anyone exploring their freshly installed system for the first time will easily find it, and then when things go sideways we are like "Yeah you shouldn't be using that, it's bad."
I know some spins ship Octopi by default now, but I happen to be booted into Gnome at the moment and it still has Pamac (looks like this ISO is from May).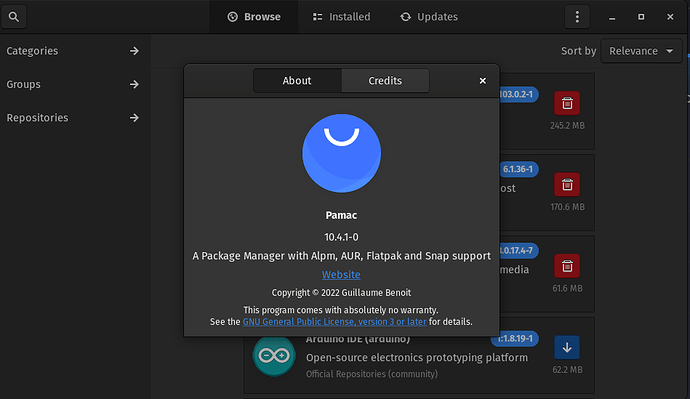 I was thinking it might be nice if the "Add/Remove Software" button launched Pacseek instead of one of the problematic GUI apps. If you set the default "Search by" to "Name & Description" it does a perfectly good job of turning up a few options to consider if someone doesn't know quite what they are looking for.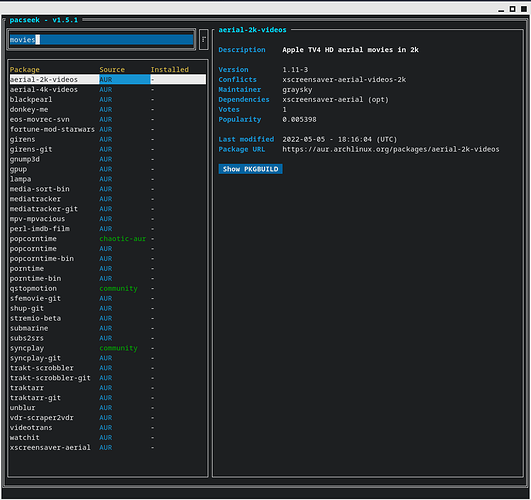 I'm not saying this is the best way to search for software or anything like that, but I do think the fact that it is a terminal-based program sends the correct message to new users. If they click the "Add/Remove Software" icon and a terminal UI launches, the unspoken implication is that managing software should be done in the terminal.
People can obviously still install Pamac or Octopi or whatever on their own if they want, we can't stop them from doing that nor would we want to. I just think it might be better if they are actively choosing to pursue that type of software management system on their own, rather than basically handing it to them on a fresh install and then scolding them when they use it and something breaks.