garuda-inxi

System:
  Kernel: 5.18.6-zen1-1-zen arch: x86_64 bits: 64 compiler: gcc v: 12.1.0
    parameters: BOOT_IMAGE=/@/boot/vmlinuz-linux-zen
    root=UUID=1e990d50-f7c1-4ded-a883-784141da6847 rw [email protected]
    rd.udev.log_priority=3 vt.global_cursor_default=0
    systemd.unified_cgroup_hierarchy=1 loglevel=3 quiet radeon.dpm=0
  Desktop: KDE Plasma v: 5.25.1 tk: Qt v: 5.15.5 wm: kwin_wayland vt: 2
    dm: SDDM Distro: Garuda Linux base: Arch Linux
Machine:
  Type: Desktop Mobo: ASUSTeK model: PRIME B350-PLUS v: Rev X.0x
    serial: <superuser required> UEFI: American Megatrends v: 3401
    date: 12/04/2017
Battery:
  Device-1: hidpp_battery_0 model: Logitech Wireless Mouse MX Master 3
    serial: <filter> charge: 100% (should be ignored) rechargeable: yes
    status: discharging
CPU:
  Info: model: AMD Ryzen 5 1600 bits: 64 type: MT MCP arch: Zen
    built: 2017-19 process: GF 14nm family: 0x17 (23) model-id: 1 stepping: 1
    microcode: 0x8001129
  Topology: cpus: 1x cores: 6 tpc: 2 threads: 12 smt: enabled cache:
    L1: 576 KiB desc: d-6x32 KiB; i-6x64 KiB L2: 3 MiB desc: 6x512 KiB
    L3: 16 MiB desc: 2x8 MiB
  Speed (MHz): avg: 2853 high: 3447 min/max: 1550/3500 boost: disabled
    scaling: driver: acpi-cpufreq governor: performance cores: 1: 2804 2: 2798
    3: 2796 4: 2807 5: 2797 6: 2800 7: 2795 8: 2796 9: 2801 10: 2796 11: 2799
    12: 3447 bogomips: 83840
  Flags: avx avx2 ht lm nx pae sse sse2 sse3 sse4_1 sse4_2 sse4a ssse3 svm
  Vulnerabilities:
  Type: itlb_multihit status: Not affected
  Type: l1tf status: Not affected
  Type: mds status: Not affected
  Type: meltdown status: Not affected
  Type: mmio_stale_data status: Not affected
  Type: spec_store_bypass
    mitigation: Speculative Store Bypass disabled via prctl
  Type: spectre_v1
    mitigation: usercopy/swapgs barriers and __user pointer sanitization
  Type: spectre_v2 mitigation: Retpolines, STIBP: disabled, RSB filling
  Type: srbds status: Not affected
  Type: tsx_async_abort status: Not affected
Graphics:
  Device-1: AMD Vega 10 XL/XT [Radeon RX 56/64] vendor: Sapphire
    driver: amdgpu v: kernel arch: GCN 5 process: GF 14nm built: 2017-20 pcie:
    gen: 3 speed: 8 GT/s lanes: 16 ports: active: DP-1,DP-2
    empty: HDMI-A-1,HDMI-A-2 bus-ID: 0a:00.0 chip-ID: 1002:687f
    class-ID: 0300
  Display: wayland server: X.org v: 1.21.1.3 with: Xwayland v: 22.1.2
    compositor: kwin_wayland driver: X: loaded: amdgpu unloaded: modesetting
    alternate: fbdev,vesa gpu: amdgpu d-rect: 4480x1080 display-ID: 0
  Monitor-1: DP-1 pos: right res: 2560x1080 size: N/A modes: N/A
  Monitor-2: DP-2 pos: primary,left res: 1920x1080 size: N/A modes: N/A
  OpenGL:
    renderer: AMD Radeon RX Vega (vega10 LLVM 13.0.1 DRM 3.46 5.18.6-zen1-1-zen)
    v: 4.6 Mesa 22.1.2 direct render: Yes
Audio:
  Device-1: AMD Vega 10 HDMI Audio [Radeon 56/64] driver: snd_hda_intel
    v: kernel bus-ID: 1-2:2 pcie: chip-ID: 19f7:0003 gen: 3 class-ID: 0300
    speed: 8 GT/s lanes: 16 bus-ID: 0a:00.1 chip-ID: 1002:aaf8 class-ID: 0403
  Device-2: AMD Family 17h HD Audio vendor: ASUSTeK driver: snd_hda_intel
    v: kernel pcie: gen: 3 speed: 8 GT/s lanes: 16 bus-ID: 0c:00.3
    chip-ID: 1022:1457 class-ID: 0403
  Device-3: RODE Microphones NT-USB type: USB
    driver: hid-generic,snd-usb-audio,usbhid
  Sound Server-1: ALSA v: k5.18.6-zen1-1-zen running: yes
  Sound Server-2: PulseAudio v: 16.1 running: no
  Sound Server-3: PipeWire v: 0.3.52 running: yes
Network:
  Device-1: Realtek RTL8111/8168/8411 PCI Express Gigabit Ethernet
    vendor: ASUSTeK PRIME B450M-A driver: r8169 v: kernel pcie: gen: 1
    speed: 2.5 GT/s lanes: 1 port: f000 bus-ID: 04:00.0 chip-ID: 10ec:8168
    class-ID: 0200
  IF: enp4s0 state: up speed: 100 Mbps duplex: full mac: <filter>
Bluetooth:
  Device-1: ASUSTek Broadcom BCM20702A0 Bluetooth type: USB driver: btusb
    v: 0.8 bus-ID: 1-3:3 chip-ID: 0b05:17cb class-ID: fe01 serial: <filter>
  Report: bt-adapter ID: hci0 rfk-id: 0 state: up address: <filter>
Drives:
  Local Storage: total: 2.61 TiB used: 1.88 TiB (71.9%)
  SMART Message: Unable to run smartctl. Root privileges required.
  ID-1: /dev/nvme0n1 maj-min: 259:0 vendor: Samsung
    model: SSD 970 EVO Plus 250GB size: 232.89 GiB block-size: physical: 512 B
    logical: 512 B speed: 31.6 Gb/s lanes: 4 type: SSD serial: <filter>
    rev: 2B2QEXM7 temp: 48.9 C scheme: GPT
  ID-2: /dev/sda maj-min: 8:0 vendor: Samsung model: ST1500LM006 HN-M151RAD
    size: 1.36 TiB block-size: physical: 4096 B logical: 512 B speed: 6.0 Gb/s
    type: HDD rpm: 5400 serial: <filter> rev: 0008 scheme: GPT
  ID-3: /dev/sdb maj-min: 8:16 vendor: Crucial model: CT120BX100SSD1
    size: 111.79 GiB block-size: physical: 512 B logical: 512 B speed: 6.0 Gb/s
    type: SSD serial: <filter> rev: MU01 scheme: GPT
  ID-4: /dev/sdc maj-min: 8:32 vendor: Samsung model: SSD 860 QVO 1TB
    size: 931.51 GiB block-size: physical: 512 B logical: 512 B speed: 6.0 Gb/s
    type: SSD serial: <filter> rev: 1B6Q scheme: GPT
Partition:
  ID-1: / raw-size: 232.59 GiB size: 232.59 GiB (100.00%)
    used: 179.68 GiB (77.3%) fs: btrfs dev: /dev/nvme0n1p2 maj-min: 259:2
  ID-2: /boot/efi raw-size: 300 MiB size: 299.4 MiB (99.80%)
    used: 576 KiB (0.2%) fs: vfat dev: /dev/nvme0n1p1 maj-min: 259:1
  ID-3: /home raw-size: 232.59 GiB size: 232.59 GiB (100.00%)
    used: 179.68 GiB (77.3%) fs: btrfs dev: /dev/nvme0n1p2 maj-min: 259:2
  ID-4: /var/log raw-size: 232.59 GiB size: 232.59 GiB (100.00%)
    used: 179.68 GiB (77.3%) fs: btrfs dev: /dev/nvme0n1p2 maj-min: 259:2
  ID-5: /var/tmp raw-size: 232.59 GiB size: 232.59 GiB (100.00%)
    used: 179.68 GiB (77.3%) fs: btrfs dev: /dev/nvme0n1p2 maj-min: 259:2
Swap:
  Kernel: swappiness: 133 (default 60) cache-pressure: 100 (default)
  ID-1: swap-1 type: zram size: 15.56 GiB used: 3 MiB (0.0%) priority: 100
    dev: /dev/zram0
Sensors:
  System Temperatures: cpu: N/A mobo: N/A gpu: amdgpu temp: 54.0 C
    mem: 50.0 C
  Fan Speeds (RPM): N/A gpu: amdgpu fan: 1266
Info:
  Processes: 401 Uptime: 59m wakeups: 6 Memory: 15.56 GiB
  used: 6.78 GiB (43.6%) Init: systemd v: 251 default: graphical
  tool: systemctl Compilers: gcc: 12.1.0 clang: 13.0.1 Packages: 2209
  pacman: 2164 lib: 469 flatpak: 45 Shell: fish v: 3.4.1 default: Bash
  v: 5.1.16 running-in: kitty inxi: 3.3.19
e[1;34mGaruda (2.6.4-2):e[0m
e[1;34m  System install date:e[0m     2021-12-14
e[1;34m  Last full system update:e[0m 2022-06-26 e[1;31m↻
e[1;34m  Is partially upgraded:  e[0m No
e[1;34m  Relevant software:      e[0m NetworkManager
e[1;34m  Windows dual boot:      e[0m No/Undetected
e[1;34m  Snapshots:              e[0m Snapper
e[1;34m  Failed units:           e[0m 

As you can see in the image below, I am missing the custom shortcuts menu item.
It appears to have been moved to the normal shortcuts item, with no way to add new custom shortcuts.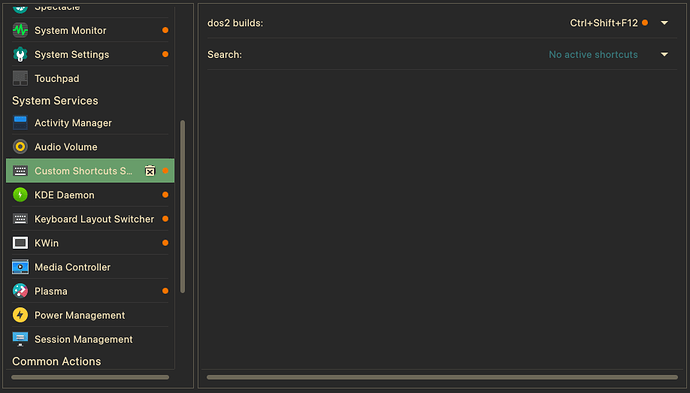 As you can see my old custom shortcut is still available (and functional), but there is no option to add additional ones.
It used to be the case that you could create shortcuts that would execute arbitrary commands, but no longer. Is there a way to fix this?