So for once, not a request for help. Instead I want to share how I have set up my working environment.
I came to KDE/Plasma because I was fascinated by the concept of the activities. They seemed ideal to me to organise my workflows and short term data storage.
And it turns out they are!
Using the Desktop Function menu, I went to activities and I set up 7 of them: Communication, Media, Office, Projects, Standard, Virtuals, Volt (which is about my political activity, like other people would have one for their professional work or so).
Next I set up the activity switcher to my liking so I can move easily between them.
For each of these activities I created specific folders in my home directory, where all files and subfolders relevant to this activity are to be stored.
Then I linked each of these folders to the respective activity desktop by specifying it in settings of that activity's desktop: There is the option Place where you can specify where this activity desktop will have its resources. Of course in this menu, I also gave each activity desktop it's own background picture so I know where I am. So only the 'Standard' activity retained the original desktop folder.
Next I populated each activity with its own quickstart launcher, where I placed the links to all the programs relevant for the activity (like all the LibreOffice components on the Office activity desktop). These launchers are specific to each activity, while on the sides I have a general side panel with the activity switch, the control panel, the application launcher and the setup laucher on lefdt side and a Plank Launcher on the right. These elements show up in all activities, so thats wher I place links to the programs that are not specific: Dolphin, Bitwarden, Joplin for example.
In addtion to the links to programs I also wanted links to some websites. These cannot be placed in the launchers. So what I did was install a program called WebApps (available in the repositories) and used that to create 'program links' to the websites. I think that is a great tool to facilitate access to websites that I use often: Google Drives, Online Banking etc. These virtual program links can be added to Plank and to the specific quickstart launchers on the activity desktop.
With this setup I am quite happy now. All the programs and resources can be accessed from the relevant desktop - like having a seperate office table for each of my activities.
I hope its not illegal to post an image here. I just want to share the screenshot of my office activity at the moment.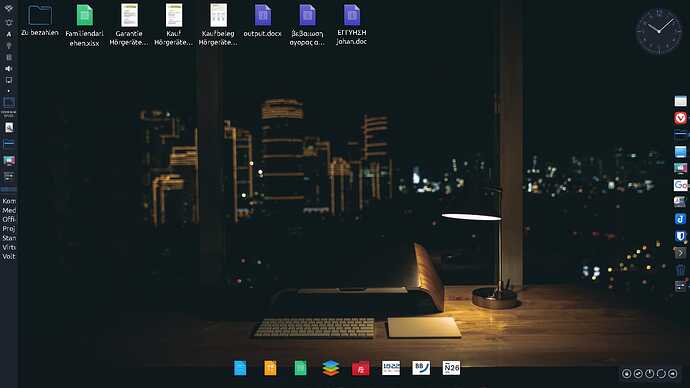 Let me end by saying thank you to all the devs that made this kind of tweaking the desktop workplace possible