Are there any images svg png for garuda that i can use to make a few custom wallpapers?
Yes, forum has a lot of them.
and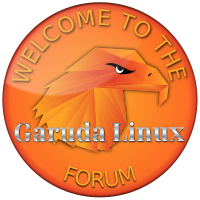 Reminder:
Post Only Your Own Stuff
You may not post anything digital that belongs to someone else without permission. You may not post descriptions of, links to, or methods for stealing someone's intellectual property (software, video, audio, images), or for breaking any other law.
Besides forums, you can find Eagle heads in high resolution in gitlab
My first attempt at a 3d logo

Since it's golden eagle i may change some tints
Please let me know your opinions(I have thick skin lol)
I can also just make a 3d logo if wanted in png format
In accordance with
"Look What They've Done To My Song, Ma"
Summary

MELANIE Look What They've Done To My Song, Ma ('71) - YouTube
Look What They've Done With My Logo, Pa.

You're older than I imagined, considering your reaction.



P. S. I like the roller skates song. Melanie-Brand New Key -((Composer Melanie Safka)) - YouTube
Older

, much older

but a little younger than you


and I love the "Brand-New-Key"

My mind, my heart have remained young and when I try to express my thoughts in English it looks like I am 14

.
No wonder everyone here thinks I'm a teenager like the rest of the team

(joke)
Oops, OT too