Will this run as a live disk in it's current state for testing?
Thoughts:
-okay so its based off of Dragonized, maybe we could venture into a "Dark Garuda" instead since we're basing making a spin-off of BlackArch?
-I found Burpsuite free edition on the development tab which i tried starting but keeps on crashing, maybe we don't want to do put it under the development tab and do something like this instead?(i apologize for my phone's low quality camera)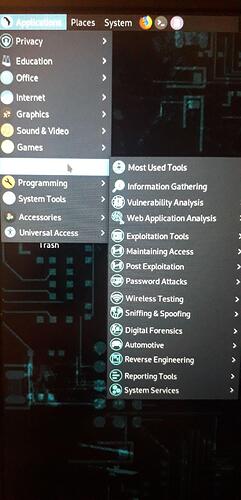 -maybe we want more than just a spin-off of BlackArch, what if we also get the neat apps on ParroOS like their handy AnonSurf(with GUI) embedded automatically on the system?
-i almost forgot my first installation crashed, idk why

. it just got stuck here for over 30 minutes
but it worked on the second try
I ran my live from the USB, everything seemed to work, I only found burbsuite and nmap. I only opened but did not put it through its paces. I'll throw more at it tomorrow.
I was also going to ask for a menu like that in Kali and parrot for tools etc. Something more original in name - maybe you can start a thread to help pick a name unless you have one in mind already

Thank you for doing this!!!!
Thanks for the feedback guys!
If you miss some applications please let me know which ones so I can put them on the list

Thats an idea for sure, but I dont know if thats easily done. Ill have a look!
In arch-based linux, Anonsurf could be replaced with Ghostnet.
Also, It would be great idea that add Black-Eagle like skin.
i've tried ghostnet in garuda but it really doesnt work, have you tried it tho?
I will have a look in a moment some of the more important things is that things like metasploit databases are pre-setup since that takes quite a bit of time to do yourself will provide some more feedback after testing
Just kidding. Maybe later in summer, if I will still be crazy enough to do this
Kali is about 4 gb.. I'm in for testing ;p
I am in... I already have 150gb of hdd waiting.
Between 4 and 6 GB if I remember correctly.
The name thread was shut down quick! I was going to offer a different name that lends itself to more of security than black hats

but Black it is!
Also - I think the way that Parrot OS is put together tools wise is very nice.
WiFite
WP scanning tools
Metasploit
BurpSuite
NMAP
to name a few -
Thinking out loud and above my knowledge and pay grade - Maybe a script that installs the toolset and configures is easier than an entire Distro build?
Regardless let me know how I can help outside of testing and I am happy to help and give back in any way that I can if needed.
I just fell in love!!! Thank you!
Any good creatives - can you make this RGB for me? I love me some RGB!
Sorry - RedGreenBlue like my keyboard etc - sorry for not explaining that!
@tbg permission to use that avatar kind sir?
That one is the black eagle avatar for tbg

The logo above is for Garuda Black, so both are not free for user avatar.
OK, so the Garuda BlackArch spin is in the same range.