Seems many like paleofetch, so we use it now in Garuda terminals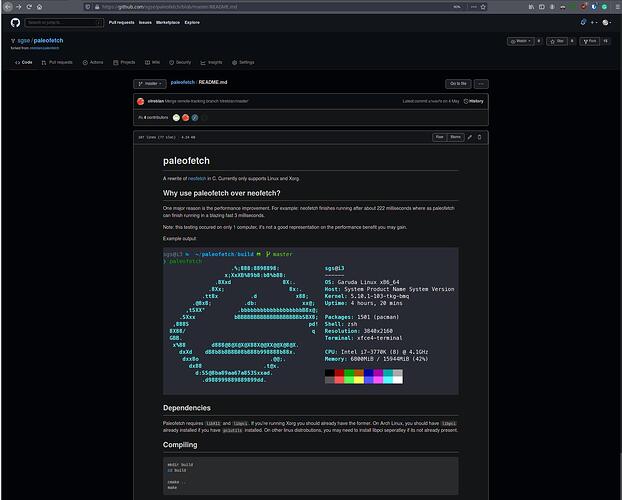 Only possible through @TNE
How about adding human sensible instructions on building/installing on Arch systems? A PKGBUILD ?
Not all are C programmers...

Me too but
mkdir build
cd build

cmake ..
make install

after doing ...
Ok, TNE, @jonathon and others will now how to make a nice and trustful pkg
So you think I haven't done this... OK...

Paleofetch is now on chaotic aur. Dude what the hell did you do it's blazing fast. Basically no delay between entering command and seeing the thing. You rock @TNE
Of course, he rocks

@dr460nf1r3 pushed the app and I changed the Distro icon.
Then TNE deletes the battery part in my fork. Build dos not work before

Yes, @TNE is our Rocker
---
And if you post in Telegram chat my Nick it is SGS or @SGS if you like to ping me and not sgs


how do we configure paleofetch after installation from chaotic aur. also some things from neofetch are missing in the repo version of paleofetch. it also shows the terminal wrong. paleofetch-garuda can you configure this package so that it matches the default neofetch config? because apart from configuration part its light years better than neofetch.
Use Neofetch

I think if paleofetch has all the same settings, maybe paleo lose speed

I delete for myself all other logos from neofetch and it was faster.
Its just a script and you can do what you like.
Paleofetch is written in C and I have no time to check where is what about the missing parts.
Start programming and fix it @pupperemeritus
for the time being i will use neofetch. but i will also keep paleofetch installed and see what updates bring.
Need to run "paleofetch --recache" from time to time as it caches some content locally for speed (eg kernel version)
As for options, these need to be set at compile time I believe

You can not configure paleofetch after it has been built. You need to build it yourself if you want to change the settings. See config.h.
(Dammit dr460nf1r3 really is a ninja sometimes)
Host: System Product Name System Version

That part is really annoying to me. The rest of it is kinda cool. Do I need to rebuild to get rid of that generic output?
Lets just rebuild with no host part (as @SGS had this issue too already) On the to-do list
Fixed

glad to see you guys implemented my telegram suggestion

Update on this topic: updated version without the buggy hostname is now in repo. Dont mind the downgrade.