Hello.
Guys today I'd like to touch problem with AppImage. I'm not sure if it's right section (so please move it if I've marked it inccorrectly).
Let's start with template:
╰─λ garuda-inxi
System:
Kernel: 5.17.5-zen1-1-zen arch: x86_64 bits: 64 compiler: gcc v: 11.2.0
parameters: BOOT_IMAGE=/@/boot/vmlinuz-linux-zen
root=UUID=20aec52d-3c03-4c92-9591-0f03b67c1af2 rw [email protected]
quiet splash rd.udev.log_priority=3 vt.global_cursor_default=0
systemd.unified_cgroup_hierarchy=1 loglevel=3
Desktop: KDE Plasma v: 5.24.5 tk: Qt v: 5.15.3 info: latte-dock
wm: kwin_x11 vt: 1 dm: SDDM Distro: Garuda Linux base: Arch Linux
Machine:
Type: Desktop Mobo: Gigabyte model: P55-US3L serial: <superuser required>
BIOS: Award v: FE date: 03/05/2010
CPU:
Info: model: Intel Core i5 750 bits: 64 type: MCP arch: Nehalem family: 6
model-id: 0x1E (30) stepping: 5 microcode: 0xA
Topology: cpus: 1x cores: 4 smt: <unsupported> cache: L1: 256 KiB
desc: d-4x32 KiB; i-4x32 KiB L2: 1024 KiB desc: 4x256 KiB L3: 8 MiB
desc: 1x8 MiB
Speed (MHz): avg: 2798 min/max: 1197/2661 boost: enabled scaling:
driver: acpi-cpufreq governor: performance cores: 1: 2798 2: 2798 3: 2798
4: 2798 bogomips: 21317
Flags: ht lm nx pae sse sse2 sse3 sse4_1 sse4_2 ssse3 vmx
Vulnerabilities:
Type: itlb_multihit status: KVM: VMX disabled
Type: l1tf
mitigation: PTE Inversion; VMX: conditional cache flushes, SMT disabled
Type: mds
status: Vulnerable: Clear CPU buffers attempted, no microcode; SMT disabled
Type: meltdown mitigation: PTI
Type: spec_store_bypass
mitigation: Speculative Store Bypass disabled via prctl
Type: spectre_v1
mitigation: usercopy/swapgs barriers and __user pointer sanitization
Type: spectre_v2 mitigation: Retpolines, IBPB: conditional, IBRS_FW,
STIBP: disabled, RSB filling
Type: srbds status: Not affected
Type: tsx_async_abort status: Not affected
Graphics:
Device-1: AMD Redwood XT [Radeon HD 5670/5690/5730] vendor: Gigabyte
driver: radeon v: kernel alternate: amdgpu pcie: gen: 2 speed: 5 GT/s
lanes: 16 ports: active: HDMI-A-1 empty: DVI-I-1,VGA-1 bus-ID: 01:00.0
chip-ID: 1002:68d8 class-ID: 0300
Device-2: Logitech Webcam C930e type: USB driver: snd-usb-audio,uvcvideo
bus-ID: 1-1.2:3 chip-ID: 046d:0843 class-ID: 0102 serial: <filter>
Display: x11 server: X.Org v: 21.1.3 with: Xwayland v: 22.1.1
compositor: kwin_x11 driver: X: loaded: radeon unloaded: modesetting
alternate: fbdev,vesa gpu: radeon display-ID: :0 screens: 1
Screen-1: 0 s-res: 1920x1080 s-dpi: 96 s-size: 508x285mm (20.00x11.22")
s-diag: 582mm (22.93")
Monitor-1: HDMI-A-1 mapped: HDMI-0 model: AOC 2757M serial: <filter>
built: 2012 res: 1920x1080 hz: 60 dpi: 82 gamma: 1.2
size: 598x336mm (23.54x13.23") diag: 686mm (27") ratio: 16:9 modes:
max: 1920x1080 min: 720x400
OpenGL:
renderer: AMD REDWOOD (DRM 2.50.0 / 5.17.5-zen1-1-zen LLVM 13.0.1)
v: 3.3 Mesa 22.0.3 compat-v: 3.1 direct render: Yes
Audio:
Device-1: Intel 5 Series/3400 Series High Definition Audio vendor: Gigabyte
driver: snd_hda_intel v: kernel bus-ID: 00:1b.0 chip-ID: 8086:3b56
class-ID: 0403
Device-2: AMD Redwood HDMI Audio [Radeon HD 5000 Series] vendor: Gigabyte
driver: snd_hda_intel v: kernel pcie: gen: 2 speed: 5 GT/s lanes: 16
bus-ID: 01:00.1 chip-ID: 1002:aa60 class-ID: 0403
Device-3: Creative Labs CA0106/CA0111 [SB Live!/Audigy/X-Fi Series]
driver: snd_ca0106 v: kernel bus-ID: 06:04.0 chip-ID: 1102:0007
class-ID: 0401
Device-4: Philips s SAA7131/SAA7133/SAA7135 Video Broadcast Decoder
vendor: Avermedia DVB-T Super 007 driver: saa7134 v: 0, 2, 17
bus-ID: 06:05.0 chip-ID: 1131:7133 class-ID: 0480
Device-5: Logitech Webcam C930e type: USB driver: snd-usb-audio,uvcvideo
bus-ID: 1-1.2:3 chip-ID: 046d:0843 class-ID: 0102 serial: <filter>
Sound Server-1: ALSA v: k5.17.5-zen1-1-zen running: yes
Sound Server-2: JACK v: 1.9.21 running: no
Sound Server-3: PulseAudio v: 15.0 running: yes
Sound Server-4: PipeWire v: 0.3.51 running: yes
Network:
Device-1: Realtek RTL8192EE PCIe Wireless Network Adapter driver: rtl8192ee
v: kernel pcie: gen: 1 speed: 2.5 GT/s lanes: 1 port: ee00 bus-ID: 02:00.0
chip-ID: 10ec:818b class-ID: 0280
IF: wlp2s0 state: down mac: <filter>
Device-2: Realtek RTL8111/8168/8411 PCI Express Gigabit Ethernet
vendor: Gigabyte driver: r8169 v: kernel pcie: gen: 1 speed: 2.5 GT/s
lanes: 1 port: ce00 bus-ID: 05:00.0 chip-ID: 10ec:8168 class-ID: 0200
IF: enp5s0 state: up speed: 100 Mbps duplex: full mac: <filter>
IF-ID-1: docker0 state: down mac: <filter>
Drives:
Local Storage: total: 447.13 GiB used: 175.64 GiB (39.3%)
SMART Message: Unable to run smartctl. Root privileges required.
ID-1: /dev/sda maj-min: 8:0 vendor: GOODRAM model: N/A size: 447.13 GiB
block-size: physical: 512 B logical: 512 B speed: 3.0 Gb/s type: SSD
serial: <filter> rev: 01.7 scheme: MBR
Partition:
ID-1: / raw-size: 195.31 GiB size: 195.31 GiB (100.00%)
used: 73.72 GiB (37.7%) fs: btrfs dev: /dev/sda3 maj-min: 8:3
Swap:
Kernel: swappiness: 133 (default 60) cache-pressure: 100 (default)
ID-1: swap-1 type: zram size: 11.68 GiB used: 2.66 GiB (22.8%)
priority: 100 dev: /dev/zram0
Sensors:
System Temperatures: cpu: 59.0 C mobo: N/A gpu: radeon temp: 57.0 C
Fan Speeds (RPM): N/A
Info:
Processes: 327 Uptime: 11h 2m wakeups: 0 Memory: 11.68 GiB
used: 9.6 GiB (82.2%) Init: systemd v: 250 tool: systemctl Compilers:
gcc: 11.2.0 clang: 13.0.1 Packages: apt: 0 pacman: 1787 lib: 391
Shell: fish v: 3.4.1 running-in: konsole inxi: 3.3.15
Garuda (2.6.2-1):
System install date:     2021-05-29
Last full system update: 2022-05-07
Is partially upgraded:   No
Relevant software:       NetworkManager
Windows dual boot:       <superuser required>
Snapshots:               Timeshift
Failed units:            bluetooth-autoconnect.service

So I have read about AppImage files. I wasn't super happy to use it but I don't have other option.
In theory we download .AppImage files open it and it should run. In reality (at least my case) it ask for integration , which fails finally and that's why it ask one more time for extract all files and run it directly. So sure, what elese do I have..? After that again it can't handle and return following error:
Cannot mount AppImage, please check your fuse setup.
You might still be able to extract the contents of this AppImage
if you run it with the --appimage-extract option.
See FUSE · AppImage/AppImageKit Wiki · GitHub
for more information
In that part I have to admit that I have my temporar solution like this:
downoload appimage file
a) run with
./Ultimaker_Cura-4.13.1.AppImage --appimage-extract-and-run

Yeap, here is about Cura (slicer soft for 3d printing which my is my best choice). And please don't advice here me to install it from pacman etc. while pacman version is outdated and desn't cover a lots of things. Besides Ulimaker suggest their official Appimage iso. So that's bying said let's follow with that path.
That way run app behave perfectly fine and work great! No doubs about it.
b) next more convinet way is option where we can firstlu extract it :
./cura.AppImage--appimage-extract

This way I get :

c) the best option is just create a shutrcut link for run that particular app. So we have to edit

Desktop content in my case is :
[Desktop Entry]
Name=Cura
Name[de]=Cura
GenericName=3D Printing Software
GenericName[de]=3D-Druck-Software
Comment=Cura converts 3D models into paths for a 3D printer. It prepares your print for maximum accuracy, minimum printing time and good reliability with many extra features that make your print come out great.
Exec=MESA_GL_VERSION_OVERRIDE=4.5 MESA_GLSL_VERSION_OVERRIDE=450 /home/zawier/CURA/squashfs-root/./AppRun
Icon=cura-icon
Terminal=false
Type=Application
MimeType=model/stl;application/vnd.ms-3mfdocument;application/prs.wavefront-obj;image/bmp;image/gif;image/jpeg;image/png;text/x-gcode;application/x-amf;application/x-ply;application/x-ctm;model/vnd.collada+xml;model/gltf-binary;model/gltf+json;model/vnd.collada+xml+zip;
Categories=Graphics;
Keywords=3D;Printing;
X-AppImage-Version=4.13.1

And setting up additional parameters :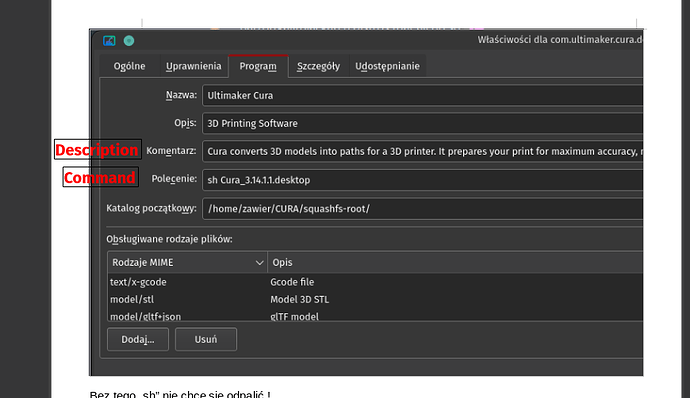 I'm able to create pernament icon enywhere and it also works great.
That's my current solution.
But question is why standard AppImage files are not able tu run properly itself? Probably you suspect that's broken Cura version or something. Not at all. I have the same problem with that type of files always. No matter what app I'd like to fire up.
Can it be fixed somehow, that system knows from begining what it should to do and how?
I haven't found answer for that problem . That's why I've posted here.
What is your experience with that extention? Have you also noticed that behavior?
Best regards