So I'm trying to use my bluetooth headphones and I can't get them to pair. I've run into this problem on a debian based distro with these same headphones, but they worked on Ubuntu Studio. I'm wondering if there's some easier way to see what the issue is on Garuda. I'm using the Dr460nized KDE version.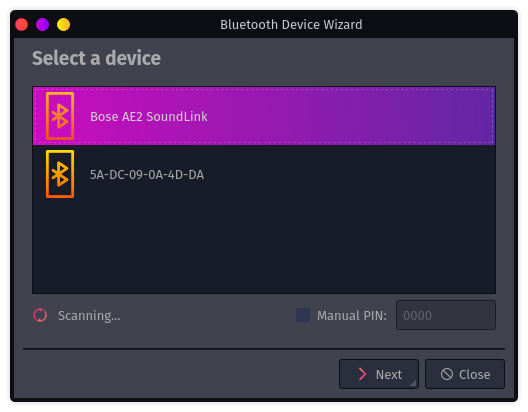 After selecting Bose AE2 Sondlink, I next get this screen. I'm not sure what the other item showing in the list is, maybe that's the mac address of the bose phones?:

Below are some logs that might help, but my skills aren't developed enough to know what this is telling me. Maybe there are some other logs I should be looking at that you could recommend?
bluetoothctl --version
bluetoothctl: 5.55

rfkill list
0: hci0: Bluetooth
	Soft blocked: no
	Hard blocked: no
1: phy0: Wireless LAN
	Soft blocked: no
	Hard blocked: no

systemctl status bluetooth

Feb 10 11:15:46 dalegaruda bluetoothd[516]: src/main.c:parse_controller_config() Key file does not have key "LEMinConnectionInterval" in group "Controller"
Feb 10 11:15:46 dalegaruda bluetoothd[516]: src/main.c:parse_controller_config() Key file does not have key "LEMaxConnectionInterval" in group "Controller"
Feb 10 11:15:46 dalegaruda bluetoothd[516]: src/main.c:parse_controller_config() Key file does not have key "LEConnectionLatency" in group "Controller"
Feb 10 11:15:46 dalegaruda bluetoothd[516]: src/main.c:parse_controller_config() Key file does not have key "LEConnectionSupervisionTimeout" in group "Controller"
Feb 10 11:15:46 dalegaruda bluetoothd[516]: src/main.c:parse_controller_config() Key file does not have key "LEAutoconnecttimeout" in group "Controller"
Feb 10 11:15:48 dalegaruda bluetoothd[516]: Starting SDP server
Feb 10 11:15:48 dalegaruda systemd[1]: Started Bluetooth service.
Feb 10 11:15:48 dalegaruda bluetoothd[516]: Bluetooth management interface 1.18 initialized
Feb 10 11:17:06 dalegaruda bluetoothd[516]: Endpoint registered: sender=:1.54 path=/MediaEndpoint/A2DPSink/sbc
Feb 10 11:17:06 dalegaruda bluetoothd[516]: Endpoint registered: sender=:1.54 path=/MediaEndpoint/A2DPSource/sbc

Results of
journalctl -n 20

-- Journal begins at Tue 2021-02-02 10:48:55 CST, ends at Thu 2021-02-11 09:13:22 CST. --
Feb 11 09:13:07 dalegaruda auto-cpufreq[3824450]: /usr/bin/cpufreqctl.auto-cpufreq: line 267: echo: write error: Invalid argument
Feb 11 09:13:07 dalegaruda auto-cpufreq[3824450]: /usr/bin/cpufreqctl.auto-cpufreq: line 267: echo: write error: Invalid argument
Feb 11 09:13:12 dalegaruda ananicy[566]: renice: firefox[1523215/3824314] 0 -> -3
Feb 11 09:13:14 dalegaruda auto-cpufreq[3825129]: /usr/bin/cpufreqctl.auto-cpufreq: line 267: echo: write error: Invalid argument
Feb 11 09:13:14 dalegaruda auto-cpufreq[3825129]: /usr/bin/cpufreqctl.auto-cpufreq: line 267: echo: write error: Invalid argument
Feb 11 09:13:14 dalegaruda auto-cpufreq[3825129]: /usr/bin/cpufreqctl.auto-cpufreq: line 267: echo: write error: Invalid argument
Feb 11 09:13:14 dalegaruda auto-cpufreq[3825129]: /usr/bin/cpufreqctl.auto-cpufreq: line 267: echo: write error: Invalid argument
Feb 11 09:13:14 dalegaruda auto-cpufreq[3825129]: /usr/bin/cpufreqctl.auto-cpufreq: line 267: echo: write error: Invalid argument
Feb 11 09:13:14 dalegaruda auto-cpufreq[3825129]: /usr/bin/cpufreqctl.auto-cpufreq: line 267: echo: write error: Invalid argument
Feb 11 09:13:14 dalegaruda auto-cpufreq[3825129]: /usr/bin/cpufreqctl.auto-cpufreq: line 267: echo: write error: Invalid argument
Feb 11 09:13:14 dalegaruda auto-cpufreq[3825129]: /usr/bin/cpufreqctl.auto-cpufreq: line 267: echo: write error: Invalid argument
Feb 11 09:13:17 dalegaruda ananicy[566]: renice: firefox[1523132/3824472] 0 -> -3
Feb 11 09:13:22 dalegaruda auto-cpufreq[3825268]: /usr/bin/cpufreqctl.auto-cpufreq: line 267: echo: write error: Invalid argument
Feb 11 09:13:22 dalegaruda auto-cpufreq[3825268]: /usr/bin/cpufreqctl.auto-cpufreq: line 267: echo: write error: Invalid argument
Feb 11 09:13:22 dalegaruda auto-cpufreq[3825268]: /usr/bin/cpufreqctl.auto-cpufreq: line 267: echo: write error: Invalid argument
Feb 11 09:13:22 dalegaruda auto-cpufreq[3825268]: /usr/bin/cpufreqctl.auto-cpufreq: line 267: echo: write error: Invalid argument
Feb 11 09:13:22 dalegaruda auto-cpufreq[3825268]: /usr/bin/cpufreqctl.auto-cpufreq: line 267: echo: write error: Invalid argument
Feb 11 09:13:22 dalegaruda auto-cpufreq[3825268]: /usr/bin/cpufreqctl.auto-cpufreq: line 267: echo: write error: Invalid argument
Feb 11 09:13:22 dalegaruda auto-cpufreq[3825268]: /usr/bin/cpufreqctl.auto-cpufreq: line 267: echo: write error: Invalid argument
Feb 11 09:13:22 dalegaruda auto-cpufreq[3825268]: /usr/bin/cpufreqctl.auto-cpufreq: line 267: echo: write error: Invalid argument