The Baloo_file_extractor crashes every few minutes.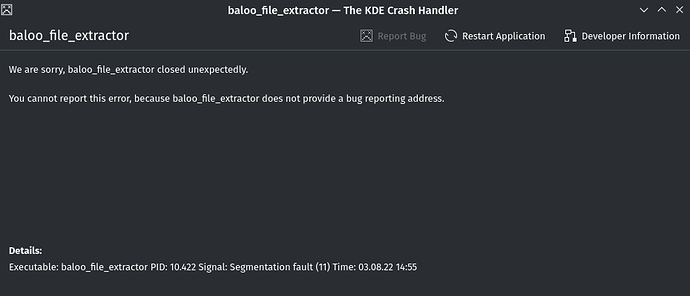 What ive done to cause this? i dont know. I did exactly nothing. I was using windwos for a few weeks and i came back yesterday and this happens, every few minutes this pops up.
I tried to update (garuda-update) did nothing. I tried to remove it, but then i saw that that thing is connected to KDE so im hesistant to remove it.
System:
Kernel: 5.18.15-zen1-2-zen arch: x86_64 bits: 64 compiler: gcc v: 12.1.1
parameters: BOOT_IMAGE=/@/boot/vmlinuz-linux-zen
root=UUID=38add348-b329-4341-8751-7bbc309d28a1 rw [email protected]
quiet splash rd.udev.log_priority=3 vt.global_cursor_default=0
systemd.unified_cgroup_hierarchy=0 loglevel=3
Desktop: KDE Plasma v: 5.25.4 tk: Qt v: 5.15.5 info: latte-dock
wm: kwin_x11 vt: 1 dm: SDDM Distro: Garuda Linux base: Arch Linux
Machine:
Type: Desktop Mobo: Micro-Star model: B450M PRO-VDH MAX (MS-7A38) v: 8.0
serial: <superuser required> UEFI: American Megatrends v: B.40
date: 11/07/2019
CPU:
Info: model: AMD Ryzen 5 3600X bits: 64 type: MT MCP arch: Zen 2 gen: 3
built: 2020-22 process: TSMC n7 (7nm) family: 0x17 (23)
model-id: 0x71 (113) stepping: 0 microcode: 0x8701013
Topology: cpus: 1x cores: 6 tpc: 2 threads: 12 smt: enabled cache:
L1: 384 KiB desc: d-6x32 KiB; i-6x32 KiB L2: 3 MiB desc: 6x512 KiB
L3: 32 MiB desc: 2x16 MiB
Speed (MHz): avg: 3845 high: 4290 min/max: 2200/4409 boost: enabled
scaling: driver: acpi-cpufreq governor: performance cores: 1: 4120 2: 3484
3: 4163 4: 3547 5: 4045 6: 3533 7: 4290 8: 3760 9: 4249 10: 3739 11: 3604
12: 3609 bogomips: 91199
Flags: avx avx2 ht lm nx pae sse sse2 sse3 sse4_1 sse4_2 sse4a ssse3 svm
Vulnerabilities:
Type: itlb_multihit status: Not affected
Type: l1tf status: Not affected
Type: mds status: Not affected
Type: meltdown status: Not affected
Type: mmio_stale_data status: Not affected
Type: retbleed mitigation: untrained return thunk; SMT enabled with STIBP
protection
Type: spec_store_bypass mitigation: Speculative Store Bypass disabled via
prctl
Type: spectre_v1 mitigation: usercopy/swapgs barriers and __user pointer
sanitization
Type: spectre_v2 mitigation: Retpolines, IBPB: conditional, STIBP:
always-on, RSB filling
Type: srbds status: Not affected
Type: tsx_async_abort status: Not affected
Graphics:
Device-1: AMD Navi 10 [Radeon RX 5600 OEM/5600 XT / 5700/5700 XT] vendor: Tul
/ PowerColor driver: amdgpu v: kernel arch: RDNA-1 code: Navi process: TSMC
n7 (7nm) built: 2019-20 pcie: gen: 4 speed: 16 GT/s lanes: 16 ports:
active: DP-1,HDMI-A-1 empty: DP-2,DP-3 bus-ID: 2b:00.0 chip-ID: 1002:731f
class-ID: 0300
Display: x11 server: X.Org v: 21.1.4 with: Xwayland v: 22.1.3
compositor: kwin_x11 driver: X: loaded: amdgpu unloaded: modesetting,radeon
alternate: fbdev,vesa gpu: amdgpu display-ID: :0 screens: 1
Screen-1: 0 s-res: 4480x1440 s-dpi: 96 s-size: 1185x381mm (46.65x15.00")
s-diag: 1245mm (49.01")
Monitor-1: DP-1 mapped: DisplayPort-0 pos: bottom-r model: Asus VP228
serial: <filter> built: 2015 res: 1920x1080 hz: 60 dpi: 102 gamma: 1.2
size: 476x268mm (18.74x10.55") diag: 546mm (21.5") ratio: 16:9 modes:
max: 1920x1080 min: 720x400
Monitor-2: HDMI-A-1 mapped: HDMI-A-0 pos: primary,top-left
model: BenQ GL2706PQ serial: <filter> built: 2016 res: 2560x1440 hz: 60
dpi: 109 gamma: 1.2 size: 597x336mm (23.5x13.23") diag: 685mm (27")
ratio: 16:9 modes: max: 2560x1440 min: 640x480
OpenGL: renderer: AMD Radeon RX 5600 XT (navi10 LLVM 14.0.6 DRM 3.46
5.18.15-zen1-2-zen) v: 4.6 Mesa 22.1.4 direct render: Yes
Audio:
Device-1: AMD Navi 10 HDMI Audio driver: snd_hda_intel v: kernel pcie:
bus-ID: 3-3:4 chip-ID: 0d8c:013c gen: 4 class-ID: 0300 speed: 16 GT/s
lanes: 16 bus-ID: 2b:00.1 chip-ID: 1002:ab38 class-ID: 0403
Device-2: AMD Starship/Matisse HD Audio vendor: Micro-Star MSI
driver: snd_hda_intel v: kernel pcie: gen: 4 speed: 16 GT/s lanes: 16
bus-ID: 2d:00.4 chip-ID: 1022:1487 class-ID: 0403
Device-3: C-Media CM108 Audio Controller type: USB
driver: hid-generic,snd-usb-audio,usbhid
Sound Server-1: ALSA v: k5.18.15-zen1-2-zen running: yes
Sound Server-2: PulseAudio v: 16.1 running: no
Sound Server-3: PipeWire v: 0.3.56 running: yes
Network:
Device-1: Realtek RTL8111/8168/8411 PCI Express Gigabit Ethernet
vendor: Micro-Star MSI driver: r8169 v: kernel pcie: gen: 1 speed: 2.5 GT/s
lanes: 1 port: f000 bus-ID: 25:00.0 chip-ID: 10ec:8168 class-ID: 0200
IF: enp37s0 state: down mac: <filter>
Device-2: Realtek RTL88x2bu [AC1200 Techkey] type: USB driver: rtl88x2bu
bus-ID: 1-1:2 chip-ID: 0bda:b812 class-ID: 0000 serial: <filter>
IF: wlp3s0f0u1 state: up mac: <filter>
IF-ID-1: virbr0 state: down mac: <filter>
IF-ID-2: vmnet1 state: unknown speed: N/A duplex: N/A mac: <filter>
IF-ID-3: vmnet8 state: unknown speed: N/A duplex: N/A mac: <filter>
Drives:
Local Storage: total: 3.18 TiB used: 1.32 TiB (41.5%)
SMART Message: Unable to run smartctl. Root privileges required.
ID-1: /dev/sda maj-min: 8:0 vendor: Toshiba model: DT01ACA300
size: 2.73 TiB block-size: physical: 4096 B logical: 512 B speed: 6.0 Gb/s
type: HDD rpm: 7200 serial: <filter> rev: ABB0 scheme: GPT
ID-2: /dev/sdb maj-min: 8:16 vendor: Samsung model: SSD 750 EVO 500GB
size: 465.76 GiB block-size: physical: 512 B logical: 512 B speed: 6.0 Gb/s
type: SSD serial: <filter> rev: 1B6Q scheme: GPT
Partition:
ID-1: / raw-size: 448.27 GiB size: 448.27 GiB (100.00%) used: 389.71 GiB
(86.9%) fs: btrfs dev: /dev/sdb2 maj-min: 8:18
ID-2: /boot/efi raw-size: 300 MiB size: 299.4 MiB (99.80%) used: 25.8 MiB
(8.6%) fs: vfat dev: /dev/sdb1 maj-min: 8:17
ID-3: /home raw-size: 448.27 GiB size: 448.27 GiB (100.00%) used: 389.71
GiB (86.9%) fs: btrfs dev: /dev/sdb2 maj-min: 8:18
ID-4: /var/log raw-size: 448.27 GiB size: 448.27 GiB (100.00%) used: 389.71
GiB (86.9%) fs: btrfs dev: /dev/sdb2 maj-min: 8:18
ID-5: /var/tmp raw-size: 448.27 GiB size: 448.27 GiB (100.00%) used: 389.71
GiB (86.9%) fs: btrfs dev: /dev/sdb2 maj-min: 8:18
Swap:
Kernel: swappiness: 133 (default 60) cache-pressure: 100 (default)
ID-1: swap-1 type: zram size: 15.57 GiB used: 1024 KiB (0.0%)
priority: 100 dev: /dev/zram0
ID-2: swap-2 type: partition size: 17.2 GiB used: 0 KiB (0.0%)
priority: -2 dev: /dev/sdb3 maj-min: 8:19
Sensors:
System Temperatures: cpu: 66.0 C mobo: N/A gpu: amdgpu temp: 58.0 C
mem: 62.0 C
Fan Speeds (RPM): N/A gpu: amdgpu fan: 0
Info:
Processes: 378 Uptime: 9m wakeups: 0 Memory: 15.57 GiB used: 5.68 GiB
(36.5%) Init: systemd v: 251 default: graphical tool: systemctl
Compilers: gcc: 12.1.1 clang: 14.0.6 Packages: apt: 0 pacman: 2586 lib: 566
Shell: fish v: 3.5.1 default: Bash v: 5.1.16 running-in: konsole
inxi: 3.3.20
Garuda (2.6.5-1):
System install date:     2022-01-14
Last full system update: 2022-08-03
Is partially upgraded:   No
Relevant software:       NetworkManager
Windows dual boot:       Probably (Run as root to verify)
Snapshots:               Snapper
Failed units:            bluetooth-autoconnect.service rustdesk.service systemd-oomd.socket