I'm not going to even try to lie - that's a pretty badass desktop background.
I just found out about the application dashboard (full screen) and I will be using it instead of the application launcher.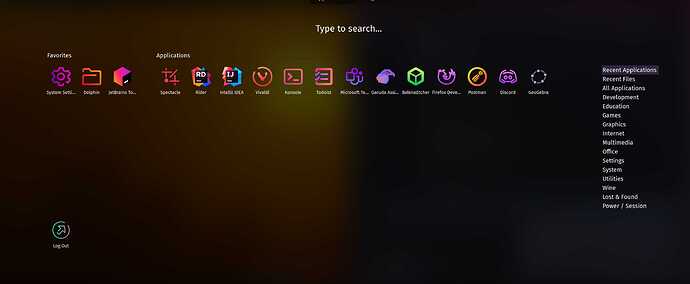 To change do the following:
right click the application launcher icon (garuda icon) in the top left
select edit panel
right click icon again
select show alternatives
select application dashboard
can be easily reverted to the application launcher with the same steps except the last.
Welcome back

OFF-TOPIC

Yesterday I thought that now I will turn my pc completely to my taste ( so that, I will not need to touch my config files for at least 5 or 6 months )
And this the final result :

Now I can peacefully leave my craze of playing with config files for some time

It's a great widget. You can also just drag it from the Widgets tray to wherever you want. I use it at the right-hand taskbar corner and log out from there. Very handy. Menu items easily arranged, too.
Try using it as your desktop instead of using a wallpaper. (Kind of makes it look like a bastardized GNOME shell.)


EDITED to reflect correct referrer.
I thought that it is on KDE only


so do you mean that I can get it on sway too ?
( If I have said some stupid thing then forgive me

, I am still diving deep in linux ocean

)
When I was using KDE plasma dr40nized , I once tried it , And that's awesome thing in it.

A very hard decisions , as I love may fancy wallpapers


I also used a small script to make the wallpaper selection random from my folder too , so that whenever I start my pc then there is a random wallpaper selected to display.
If someone wants then here it is

:
set $wallpapers_path $HOME/Desktop/backgrounds
output * bg `find $wallpapers_path -type f | shuf -n 1` fill


And
Thanks @c00ter

I apologize. I was commenting on @benjamin's screenshot and mistakenly referenced you. I have now corrected my post. However, yours looks very nice, also. I like it.


Current setup.
Simple clean desktop.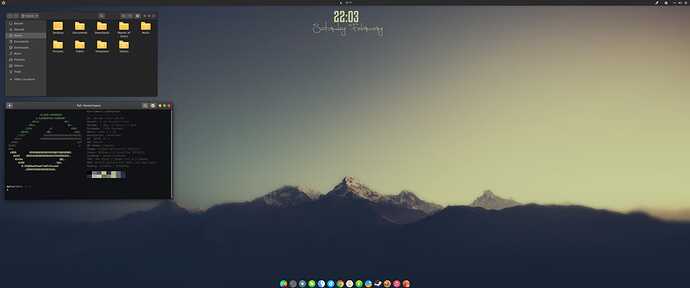 Doing light setup on this one.
Can you share the config files, please, maybe in new topic in #community:showcase ?
Love this setup SGS, way to match up colors. Just a beautiful desktop.
Having a bit of fun with sway I see. Happy me
Some color on this one.