@His_Turdness Like the virt-manager! I used to do VFIO Stuff, but now I just use my old GPU for Crypto Mining. It's much more profitable!
One note on your situation is that you got brands everywhere. You branded your wallpaper with "NZXT" a PC hardware company and then made the menu an Apple logo.
Go with whatever floats your boat! I would never put an Apple logo on anything relating to my computer. The only time I see an Apple logo in an interface is when I run Hackintosh stuff.
Actually on my PC, I've got Linux, MacOS, and Windows(although I'm pretty sure that my windows build is borked, don't know I never boot into it.) I wouldn't want to confuse myself between Linux and MacOS with an Apple Logo. When I boot up MacOS once every 3 months or so, I need that distinction!
That apple logo came with the Latte layout. Still haven't changed that. And that can wait, having bigger problems with my system right now. Related to my virt-manager setup.

I was a mac user for a long time, from late 90s to around the time they stopped NVidia support. Been trying to use Linux ever since.
Edit: this is the completed desktop. I always fall back to this wallpaper. It's so soothing.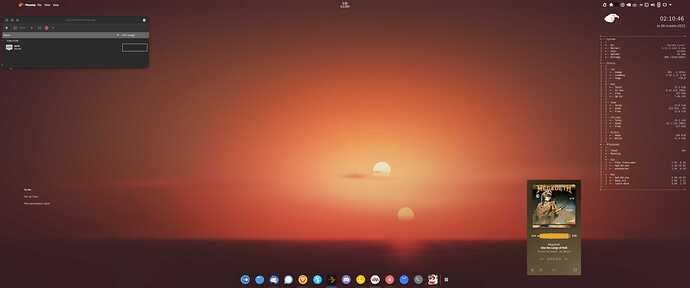 Wow, looking very skookum. However there might be a high probability of inducing acid flashbacks* if you stare at that too long.

*Those who never lived through the 60's and 70's can disregard this warning.
I think Budgie is under utilized. I think it would be such a great enterprise desktop environment. Every time I use it, I'm always impressed how intuitive it is. Looks good!
@jonathon A little less front splitter and roof rack, and a little more thinkpad taking over the world?
Welcome to the forum!

Looking good!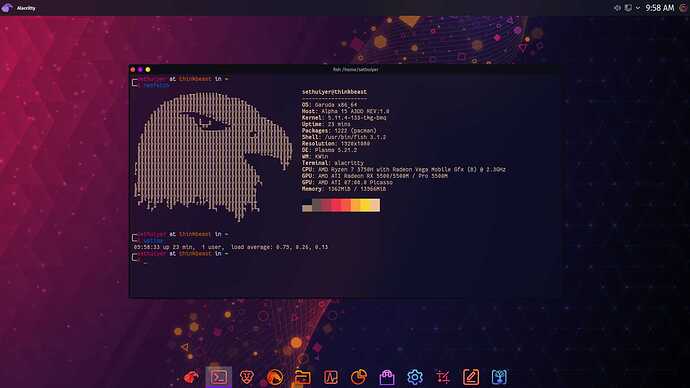 Absolutely in love with Garuda Linux. I have tried all. Debian, OpenSUSE but later I finally tried arch but I was not able to maintain it properly. Garuda Linux with it's calamer installer not only made the installation easy but the system management easy too!
Thanks for all the effort!
More budgie

LOL, looks like the background is "tweaking."
That's much more relaxing. The previous image made me think I had drank too much coffee. Eek!

It's now confirmed, I need glasses.