Garuda Barebones KDE Plasma
I had Manjaro, but i wanted Arch, but i'm to lazy install nvidia drivers. Well Garuda have solution for me, easy pure distro with stock KDE and some goodies. I can follow The Arch Way with Garuda Linux. Yes i love Star Trek!


YMMD

---
Some text for discourse
An older-school type of look (and music) - you can have a lot of multi-tasking and information on the go even without accounting for workplace switching..
Oh - and plank autohiding on the left...
Well, if you're into the old skool look, here's my plan9front "desktop" - 9front is a continuation fork of Bell Labs' old Plan 9 operating system. I run it in a VM.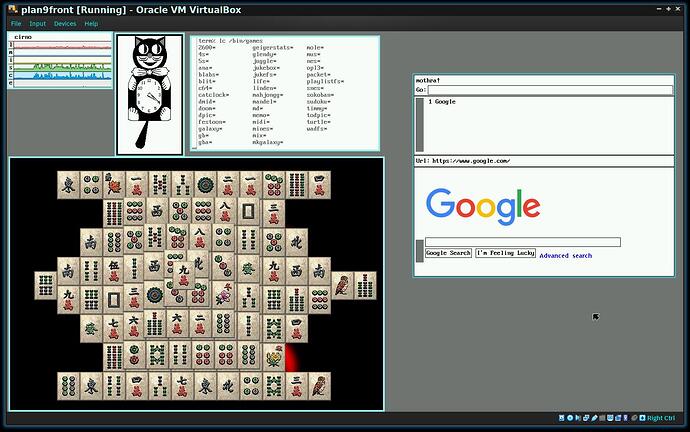 A couple of things from their FAQ:
Why might I want to use 9front?

It is very likely that you do not.

New users frequently want to know whether 9front is superior to some other free UNIX-like operating system. Consider: The question is largely unanswerable. What are your criteria? Why are you even using computers in the first place? Exploring these questions and the implications that derive therefrom may help you sharpen your perceptions and eventually come to some sort of conclusion about which operating system you prefer to use for daily tasks.

Ultimately, whether or not 9front is for you is a question only you can answer.
Plan 9 is not for you

Let's be perfectly honest. Many features that today's "computer experts" consider to be essential to computing (javascript, CSS, HTML5, etc.) either did not exist when Plan 9 was abandoned, or were purposely left out of the operating system. You might find this to be an unacceptable obstacle to adopting Plan 9 into your daily workflow. If you cannot imagine a use for a computer that does not involve a web browser, Plan 9 may not be for you.
Although, they do have a browser called mothra (pictured above). It works, mostly, as long as you don't need little details like javascript, CSS and such...
New to me and I'm a old fart. Will do a little reading on this OS.
It's a trip. Whether it's a good trip or a bad trip will depend upon what you're looking for.
If you've worked with UNIX in the old days, it will definitely bring back memories. It took me a few hours to adjust and begin to settle into it - but it's provided a lot of "oh, yeah, I remember doing that" moments. It's not UNIX, but it's UNIX-like.
More old-school than I need! You had lots of colour on that though - so not THAT old!

Where's the tie-in to outer space, though?

just think a bit unlimited and you are there

and a (my) desktop does more or less present my actual mood so before it was more old fashion puristic styled and now a bit more open space thinking

BTW the wallpaper is from 'The Expanse'
2160p reduced and convert png to jpg.
All the best to you in this holiday season @mandog. Wishing you, and your family good health in the New Year.
Cheers mate.

make this default on dragonized.
It's @dr460nf1r3 part but he doesn't like it

I push them next year to garuda-wallpapers-extra in the moment you can
download here.