What about your "super secure" passwords for your vm's lol assuming you use vm's! @alexjp
My vm's are completely without password, so that the hacker gets directed there. upon his hacking of the vm, he finds a desktop with a very ugly wallpaper, making the hacker regret ever hacking my IP.
yes , I AM EVIL !
Lol well played

Can someone (probably @SGS) let me know the font used in this screenshot, please?
It's so clean, I must use it too

From this thread
Switching every time to default theme - #10 by SGS
IIRC comfortaa
Still got some work to do (namely changing the font in the less convenient places), but finally close enough to being sharable: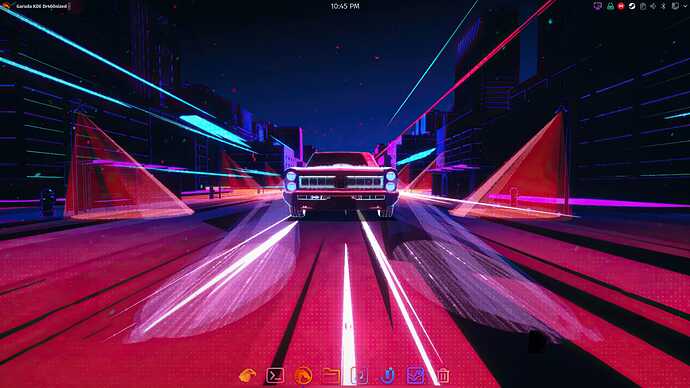 I didn't stray very far from the way it came I mostly got rid of a few widgets at the top, replaced a few (the left-hand corner is not the app launcher anymore it is corner menu) put the clock in the middle(I like it there from using gnome), got rid of the network monitor and user account widgets(redundant since corner menu has this) the Garuda logo at the bottom is my app dashboard now. Obviously, the wallpaper is different, but that's about it. What can I say, I like the theme and general layout of Garuda Dr460nized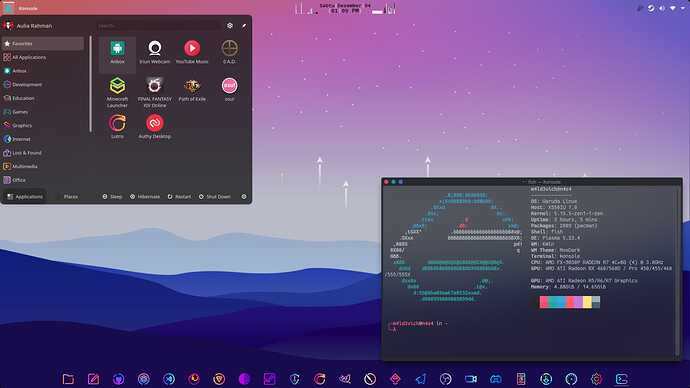 It's been a long time since my last post on forum when work is starting to piling up from the middle of this year until now and there's still lot to do.
I hope you all stay healthy and happy

Why two displays for volume and network?
???
Why two displays?
For volume and network?
Yes


Once reception strength for the network and once volume of the speakers
Is the bar (I don't know the proper name off the top of my head) not interactive, thus the need for system tray?
E2A, @SGS

Isn't the system tray redundant for these two?
No,

I would like to see the values also in numerical form, not only if it is active and to get to the settings.
So, the bar isn't interactive.
That was my query. I thought/expected most of the system tray functionality to be available in the bar widget.
I'm with you on preferring precise numbers rather than "somewhere between 20-40% or 40-60%".
If I change the Volume on keyboard it follow in bar, so only the right icons are interactive, from BT to the right, the left ones not

---
OT over and out

Wow, the latest release of Garuda Gnome looks fantastic. IMO, the collaboration of the default shell color with the darker wallpaper and icon set creates a nice visual synergy. A more mature desktop relative to the brighter, youthful appearance of the flagship.