Nice. That's one of the things I love the most about KDE, you can make it imitate any other desktop environment
i3wm with Azote picture browser and background setter by @nwg
I wish I had as many beautiful wallpapers.
Just download
sudo pacman -Syu garuda-wallpapers-2021 garuda-wallpapers garuda-wallpapers-extra

or change from Arch to Garuda

</off topic>
This is true. I put the mini program right next to the application starter and gave it a Beautyline look.
Is that a vertical monitor?
Yessir 144hz too


what conky is that on the left hand side ?
My personal conky
holdup, how did u get those shadows around ur terminal?
Found this wallpaper on Reddit yesterday. Daaaamn its nice. Needs a Garuda version

---
Edit: here we go, our art master @SGS has created something beautiful. Sadly cant distribute that one due to copyright reasons (original source)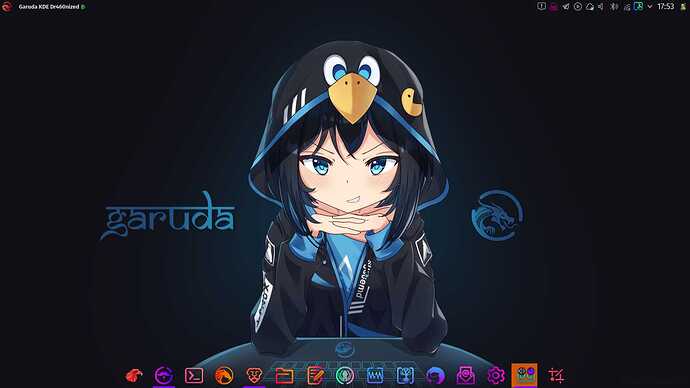 How do you get the old neofetch logo?
Dunno, it was there when I opened the shellfish
But try
neofetch --ascii_distro garuda