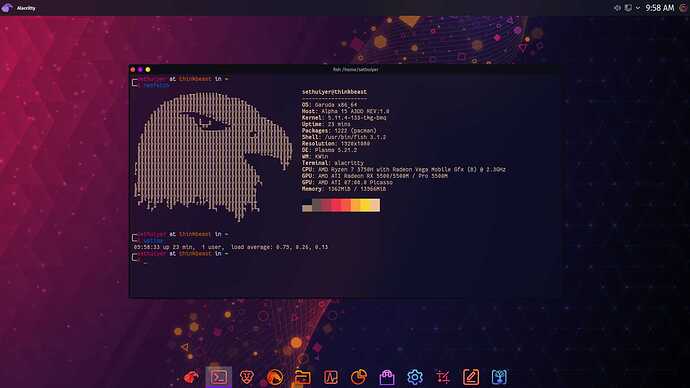 Absolutely in love with Garuda Linux. I have tried all. Debian, OpenSUSE but later I finally tried arch but I was not able to maintain it properly. Garuda Linux with it's calamer installer not only made the installation easy but the system management easy too!
Thanks for all the effort!
More budgie

LOL, looks like the background is "tweaking."
That's much more relaxing. The previous image made me think I had drank too much coffee. Eek!

It's now confirmed, I need glasses.

Here are a few more. I have my background set to cycle through several that I like, some of which were posted already.
Wait since when do desktops have genders.

My DE is gender fluid - she chose, not me!

I think KDE woud be male because konki (The maskot) is male
Concentrate please

it's Konqi the Konqueror
He is a cheerful green dragon kid
https://community.kde.org/Konqi
Something did catch my attention here


And mine is AMAB non-binary wait but this is arch baed not gentoo based?