What does sudo pacman -Syu say?(post terminal output as text)
λ sudo pacman -Syu
[судо] лозинка за корисника jovanag:
:: Sinhronizujem baze paketa...
core ist aktuell
extra ist aktuell
community ist aktuell
multilib ist aktuell
chaotic-aur                          1273.6 KiB   581 KiB/s 00:02 [------------------------------------] 100%
blackarch ist aktuell
:: Pokrećem punu nadogradnju sistema...
nema se šta činiti

It is already updated.
Just download files from the link you gave and import theme in latte dock.
I already did.
I don't know what I'm doing btw.
So, what is the issue? You should be able to use that layout in Latte settings.
if you have already downloaded the theme then you should be able to right click the latte dock then go to configure latte , go to layout editor, and import the theme you want.

You have to explain this in your own words.
I recall I said this before. Was it you again?
Anyway, ask at the layout developer's bug tracker.
This means: the theme does some rainbow, is sometimes transparent, sometimes dark and has widgets which move with the music, system specs etc.
The dev has no bug tracker that I am aware of.
I am sure he should have provided installation instructions and additional required components.
Install it properly.
Is it a theme or a Latte layout? (totally different things)
Done. Let's see what happens next.
I have just read the developer's instructions.
Have you followed everything?
How exactly have you installed it?
Trolling the forum is not acceptable!
I'm not trolling I really don't know what I am doing. I followed the instructions as far as I could, now I'm stuck halfway.
Explain with details, or do it again and report what went wrong.
or the topic will be closed.
I believe I installed it using Discover Software Center. I went to the dev's KDE store ( link in first post ) , downloaded the cyberpunk large layout file and imported it into the layout for Latte Dock. Then I tried literally everything I could to make it work properly. I played around with all sorts of settings as SU within the GUI and that is what happened.
Advice:
Read the devs guide
Follow the steps closely
Document what happened after executing step after step
Your description does not really help us as its inaccurate - imagine going to the doctor because of a broken leg and just saying "I dont know how to stop the pain, I tried a lot of stuff already but that didnt help" - how is the doctor going to know whats wrong?

You have to install panon from here or from KDE's widget store,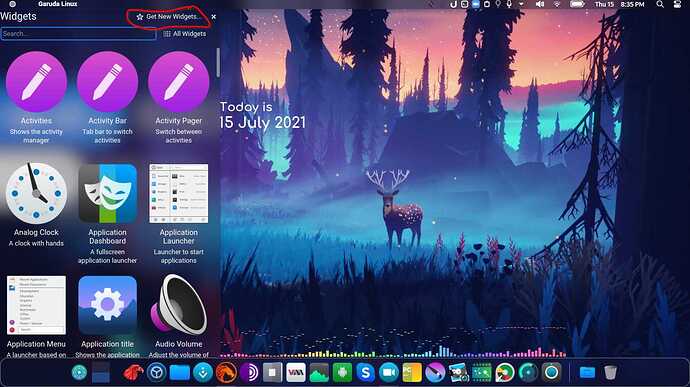 Actually, the wave effect is a plasmoid/widget which you have to install separately, and it is not linked with latte dock.
Required packages for ArchLinux (dependencies which need to be install, just copy and paste to a terminal:
sudo pacman -S qt5-websockets python-docopt python-numpy python-pyaudio python-cffi python-websockets
You may have to add the widget and edit it (from edit mode in desktop) to your requirements.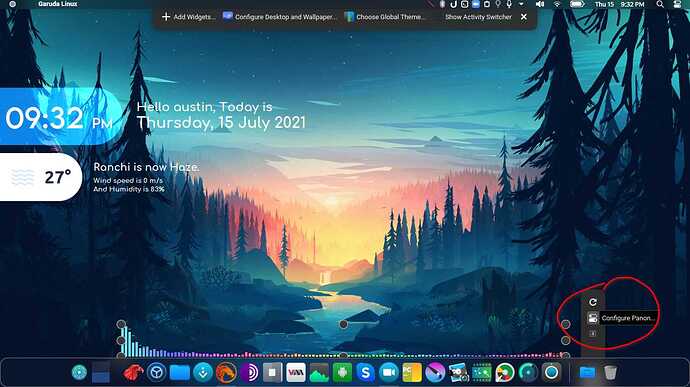 Well at least someone read the requirements.

That's always a good place to start.