Hi,
I am unable to do software update on KDE flavour of Garuda linux.
"Package conflict found ananicy-rules-git-ananicy-git(ananicy): conflicting dependencies"
Could you please past the entire sentence / part of the update ?
In general I think that ananicy-rules-git-ananicy-git is required by the new ananicy-cpp, so you should possibly accept.
I have uploaded the image in the below link
Could you please try to update from terminal with the update command?
Would you mind sharing the command to run on the terminal? I am a newbie to Arch-based distros.
It is just
update
I hope you have it, since it was introduced several months ago, but I'm a bit concerned by the 4.9GB of your updates!
I guess you've not been updating for a while?
If you do't have update, you could run
sudo pacman -Syu
But the former is preferrable because takes care of other useful things.
That's an ancient system you have in Arch terms


Force uninstall ananicy and try again
sudo pacman -Rdd ananicy-git && sudo pacman -Syu
Thanks for your reply. However, I am getting other conflict problems Do you recommend me
to reinstall the os?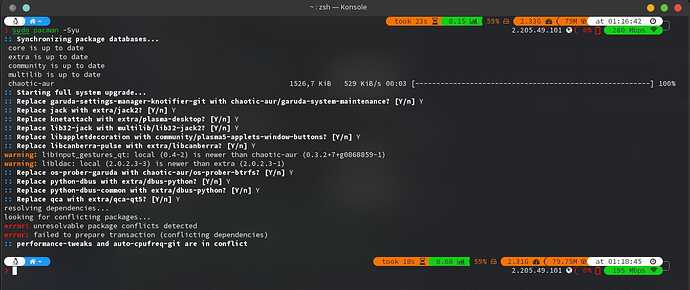 If it's desktop keep performance tweaks
If it's laptop keep auto cpufreq
Remove one of them first
This topic was automatically closed 2 days after the last reply. New replies are no longer allowed.