I'm looking at the Korean Keyboard in the Keyboard settings and it seems to be one of the Only keyboards without native implementation.

Here is the Japanese Layout: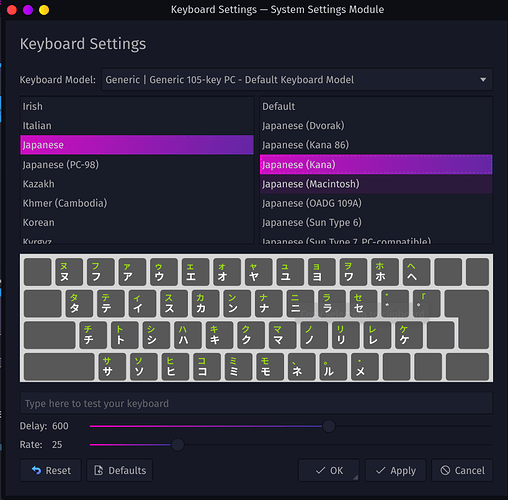 Here is the Kyrgyz Layout:

For school I really need to get Hangul input by next semester. I've been trying to figure out how to get Korean input to work on garuda since I got it a few months ago, but everything I tried has not worked. I'd appreciate any assistance.
System:    Kernel: 5.13.13-zen1-1-zen x86_64 bits: 64 compiler: gcc v: 11.1.0 
parameters: BOOT_IMAGE=/@/boot/vmlinuz-linux-zen root=UUID=829aefe3-eba5-4752-b123-36813328608c 
rw [email protected] quiet splash rd.udev.log_priority=3 vt.global_cursor_default=0 
systemd.unified_cgroup_hierarchy=1 resume=UUID=13b83040-af69-419b-832d-d7e7080c3730 loglevel=3 
Desktop: KDE Plasma 5.22.4 tk: Qt 5.15.2 info: latte-dock wm: kwin_x11 vt: 1 dm: SDDM 
Distro: Garuda Linux base: Arch Linux 
Machine:   Type: Laptop System: Dell product: Inspiron 5584 v: N/A serial: <filter> Chassis: type: 10 
serial: <filter> 
Mobo: Dell model: 03D64V v: A00 serial: <filter> UEFI: Dell v: 1.4.1 date: 04/12/2019 
Battery:   ID-1: BAT0 charge: 22.9 Wh (86.4%) condition: 26.5/42.0 Wh (63.1%) volts: 12.3 min: 11.4 
model: Samsung SDI DELL CYMGM8C type: Li-ion serial: <filter> status: Discharging 
CPU:       Info: Quad Core model: Intel Core i5-8265U bits: 64 type: MT MCP arch: Kaby Lake note: check 
family: 6 model-id: 8E (142) stepping: B (11) microcode: EA cache: L2: 6 MiB 
flags: avx avx2 lm nx pae sse sse2 sse3 sse4_1 sse4_2 ssse3 vmx bogomips: 28800 
Speed: 800 MHz min/max: 400/3900 MHz Core speeds (MHz): 1: 800 2: 782 3: 800 4: 800 5: 800 
6: 800 7: 800 8: 800 
Vulnerabilities: Type: itlb_multihit status: KVM: VMX disabled 
Type: l1tf status: Not affected 
Type: mds mitigation: Clear CPU buffers; SMT vulnerable 
Type: meltdown status: Not affected 
Type: spec_store_bypass mitigation: Speculative Store Bypass disabled via prctl and seccomp 
Type: spectre_v1 mitigation: usercopy/swapgs barriers and __user pointer sanitization 
Type: spectre_v2 
mitigation: Full generic retpoline, IBPB: conditional, IBRS_FW, STIBP: conditional, RSB filling 
Type: srbds mitigation: Microcode 
Type: tsx_async_abort status: Not affected 
Graphics:  Device-1: Intel WhiskeyLake-U GT2 [UHD Graphics 620] vendor: Dell driver: i915 v: kernel 
bus-ID: 00:02.0 chip-ID: 8086:3ea0 class-ID: 0300 
Device-2: Microdia Integrated_Webcam_HD type: USB driver: uvcvideo bus-ID: 1-6:3 
chip-ID: 0c45:671f class-ID: 0e02 
Display: x11 server: X.Org 1.20.13 compositor: kwin_x11 driver: loaded: intel 
unloaded: modesetting alternate: fbdev,vesa display-ID: :0 screens: 1 
Screen-1: 0 s-res: 1920x1080 s-dpi: 96 s-size: 508x285mm (20.0x11.2") s-diag: 582mm (22.9") 
Monitor-1: eDP1 res: 1920x1080 hz: 60 dpi: 143 size: 340x190mm (13.4x7.5") diag: 389mm (15.3") 
OpenGL: renderer: Mesa Intel UHD Graphics 620 (WHL GT2) v: 4.6 Mesa 21.2.1 direct render: Yes 
Audio:     Device-1: Intel Cannon Point-LP High Definition Audio vendor: Dell driver: snd_hda_intel 
v: kernel alternate: snd_soc_skl,snd_sof_pci_intel_cnl bus-ID: 00:1f.3 chip-ID: 8086:9dc8 
class-ID: 0403 
Sound Server-1: ALSA v: k5.13.13-zen1-1-zen running: yes 
Sound Server-2: JACK v: 1.9.19 running: no 
Sound Server-3: PulseAudio v: 15.0 running: no 
Sound Server-4: PipeWire v: 0.3.34 running: yes 
Network:   Device-1: Realtek RTL810xE PCI Express Fast Ethernet vendor: Dell driver: r8169 v: kernel 
port: 3000 bus-ID: 01:00.0 chip-ID: 10ec:8136 class-ID: 0200 
IF: enp1s0 state: down mac: <filter> 
Device-2: Qualcomm Atheros QCA9377 802.11ac Wireless Network Adapter vendor: Dell 
driver: ath10k_pci v: kernel port: 3000 bus-ID: 02:00.0 chip-ID: 168c:0042 class-ID: 0280 
IF: wlp2s0 state: up mac: <filter> 
IF-ID-1: moz0 state: unknown speed: N/A duplex: N/A mac: N/A 
Bluetooth: Device-1: Qualcomm Atheros type: USB driver: btusb v: 0.8 bus-ID: 1-10:4 chip-ID: 0cf3:e009 
class-ID: e001 
Report: bt-adapter ID: hci0 rfk-id: 1 state: up address: <filter> 
RAID:      Hardware-1: Intel 82801 Mobile SATA Controller [RAID mode] driver: ahci v: 3.0 port: 4060 
bus-ID: 00:17.0 chip-ID: 8086.282a rev: 30 class-ID: 0104 
Device-1: md127 maj-min: 9:127 type: mdraid level: N/A status: inactive size: N/A 
Info: report: N/A blocks: 2944 chunk-size: N/A 
Components: Online: N/A Spare: 
0: nvme1n1 maj-min: 259:4 size: 13.41 GiB state: S 
Drives:    Local Storage: total: 251.89 GiB used: 36.21 GiB (14.4%) 
SMART Message: Unable to run smartctl. Root privileges required. 
ID-1: /dev/nvme0n1 maj-min: 259:0 vendor: Intel model: H10 HBRPEKNX0101A NVMe 256GB
size: 238.47 GiB block-size: physical: 512 B logical: 512 B speed: 15.8 Gb/s lanes: 2 type: SSD
serial: <filter> rev: 7002 temp: 31.9 C scheme: GPT
ID-2: /dev/nvme1n1 maj-min: 259:4 vendor: Intel model: H10 HBRPEKNX0101AO NVMe 16GB
size: 13.41 GiB block-size: physical: 512 B logical: 512 B speed: 15.8 Gb/s lanes: 2 type: SSD
serial: <filter> rev: 7050 temp: 37.9 C
Partition: ID-1: / raw-size: 225.49 GiB size: 225.49 GiB (100.00%) used: 36.21 GiB (16.1%) fs: btrfs
dev: /dev/nvme0n1p2 maj-min: 259:2
ID-2: /boot/efi raw-size: 256 MiB size: 252 MiB (98.46%) used: 546 KiB (0.2%) fs: vfat
dev: /dev/nvme0n1p1 maj-min: 259:1
ID-3: /home raw-size: 225.49 GiB size: 225.49 GiB (100.00%) used: 36.21 GiB (16.1%) fs: btrfs
dev: /dev/nvme0n1p2 maj-min: 259:2
ID-4: /var/log raw-size: 225.49 GiB size: 225.49 GiB (100.00%) used: 36.21 GiB (16.1%)
fs: btrfs dev: /dev/nvme0n1p2 maj-min: 259:2
ID-5: /var/tmp raw-size: 225.49 GiB size: 225.49 GiB (100.00%) used: 36.21 GiB (16.1%)
fs: btrfs dev: /dev/nvme0n1p2 maj-min: 259:2
Swap:      Kernel: swappiness: 133 (default 60) cache-pressure: 100 (default)
ID-1: swap-1 type: partition size: 12.72 GiB used: 0 KiB (0.0%) priority: -2
dev: /dev/nvme0n1p3 maj-min: 259:3
ID-2: swap-2 type: zram size: 11.56 GiB used: 0 KiB (0.0%) priority: 100 dev: /dev/zram0
Sensors:   System Temperatures: cpu: 40.0 C mobo: N/A
Fan Speeds (RPM): cpu: 2659
Info:      Processes: 258 Uptime: 22m wakeups: 4 Memory: 11.57 GiB used: 3.31 GiB (28.6%) Init: systemd
v: 249 tool: systemctl Compilers: gcc: 11.1.0 clang: 12.0.1 Packages: pacman: 1432 lib: 440
Shell: fish v: 3.3.1 default: Bash v: 5.1.8 running-in: konsole inxi: 3.3.06