Downloaded Gaaruda kde Linux. Installation failed.resync failed error code 11. Help developers.thankyou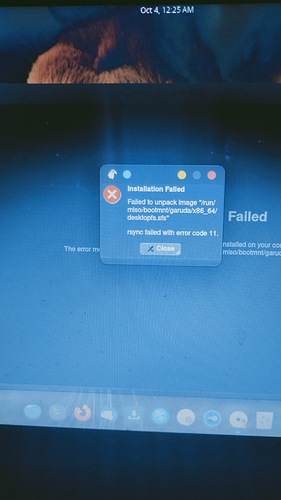 It's not recommend to install on VM

and
Welcome in Garuda Linux Forum

not in vm machine sir. installing on harddisk only... dual booting on win 10. now using lite edition it installs fine but ultimate edition is not installing . i think problem in file pakage . i indeed to download again . i will give a try . thank you.
Maybe you use better next generation of Garuda. Coming soon.


KDE has some problem with Latte-Dock but that is not the rsync failure, maybe a memory problem, that also is solved

, in next ISO's.
I would suggest you checksum the ISO to be sure it doesn't contain errors.
If the ISO is error free, then I would suggest running Calamares in debug mode.
You can launch Calamares in debug mode from the terminal.
sudo calamares -d 

Perhaps with detailed error logs @librewish could diagnose what your issue may be.