but i cannot buy a new pc, try to understand
How to edit it and where is it located, in my bootable pendrive??
In your bootable pen drive, open terminal and use
sudo micro etc/calamers/modules/welcome.conf

Then edit the line with RAM Requirements. Save the file and try installing again.
Understood, what is being said is a 2GB stick of RAM would help you a lot and is a much less than a new PC.
But I already have 2GB ram

As in, another stick (if there's room), to bring your total up to 4GB.

This os is for hackers???
This os is for everyone. Hackers/developers/ students / other users can use it.
Can I buy 2GB DDR2 ram for my pc
Post output of command
inxi -Fxxxza

Just copy the text from terminal and paste here.
I want to ask 1 question -
I have 2GB ram already, but if i buy 1 more ram of 2GB so will it be 4GB ?
Reply fast please
When I am trying to install, I am getting this error--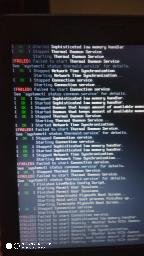 Yes, and it is necessary to have 4 GB RAM for a smooth laptop.
I can't see anything clearly.
But again,
You understand that you will be rejected because your system does not meet the requirements of Garuda KDE-Plasma?
If I were Indian, I would be proud of a homemade operating system. But if they don't let you in, take Hefftor or rebornOs. They look forward to your arrival there.
No! EndeavourOS https://endeavouros.com/

I'm joking use what you want. Try them all out.
I think I've tried pretty much everything. Garuda completely corresponds to my ideas. I can transform Garuda into Multimedia or use Salientos. I am proud of the freedom of movement that my fathers fought hard for.
Use AntiX or MX Linux. They're better than Garuda since you have low RAM.
Garuda Linux seems to resemble a raga. The tuning of the instruments is already part of the music.