Is Garuda Linux an Indian OS?
i am indian
while garuda is multinational
currently it is developed worldwide
garuda was started by me and @SGS
i think on 23rd march 2020
The core developers are from India and Germany, but there are smatterings from other places. Some of that info is listed on the distros about page.
And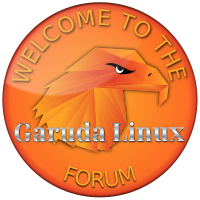 you did a great job


Thanks for your reply! I appreciate you and your team's work and hope that this project continues to become the most famous OS.
This OS is reasonably very fast and it's beautiful. I've tried over 12 Linux distros, but this one practically won my heart. I would suggest you to publish some advertisements to make this operating system available to those who are looking for OSes of this category (the 'superb' category).
Lastly, I would like to thank you for this project. The development of this project will soon lead to the development of our nation ("aatmanirbhar bharat"). Jai Hind!
The distro has paid for some advertising on Distrowatch in the past. However, as the distro does not take donations any money for advertising comes out of the pockets of the volunteers on the team.
Since the listing on Distrowatch many Linux information sources have been spreading the news about Garuda. I can't see the distro spending more money on advertising at this point as it doesn't seem warranted at this time.
Everytime a new video or news article covers Garuda it results in a huge spike in downloads for our ISO's. This in turn leads to a large spike in help requests on the forum from new users unfamiliar with how Linux works.
The forum only has a limited number of volunteers to provide support to all these new users. Generally I'd say that until some of the new Garuda users start helping out volunteering time to help other users the support channels are about maxed out.
The Devs only have so much time in the day they can put towards support issues. To be able to grow the distro any further really requires help from other experienced Linux users who can assist newcomers with their many questions.
In light of the current situation, more advertising expenditures seem unlikely at this point. Mostly because it doesn't seem necessary, but more so, because we don't want to overtax our current support capabilities.
You 're doing a good job. Don't worry. New assistants will grow eventually.
Successful installations build up trust to new users.
Trust is building confidence.
Confidence builds up satisfaction and spare time to support others.
It just needs time.



I know that, I guess I was just hoping we'd have a few more quality volunteers such as yourself onboard by now.
I can never thank you enough @petsam as your expertise assisting on the forum is always greatly appreciated.
I think the Greeks get a bad rap for baring gifts. I mean, one hollow statue in a couple of thousand years and they just won't let you live it down.
Cheers.