As the former testing thread for the new ISO was closed, here some other things I noticed:
We have two global menu in, that also counts for the may ISO.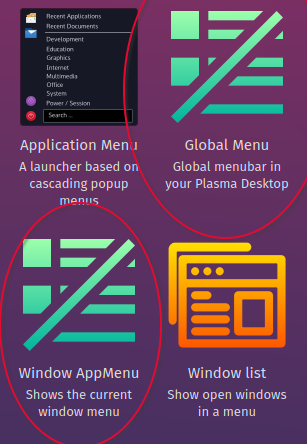 That one called "Global Menu" has fewer options in the settings menu, so I suggest removing that.
Then, setting panels to "windows can cover" does not bring them forward, when certain apps lay over them. I can reproduce this reliably with Kate.
So, in order to reproduce:
Set the panel to "windows can cover" and then open Kate.
It is not coming up, if I hover over the area, where it's hiding.
It does work with Firedragon, as an example.
I am unsure if this is Garuda or purely Wayland-related.
Probably the latter, so forgive me in this case.
I am sleepy and just want to leave this here, so I can report it tomorrow at the KDE bugzilla.
You might still be able to contribute, so I could mention this.
I also found a weird bug, when adding an external monitor, but this was solved by the universal bug-fixing toolkit, called the holy reboot.