I am currently on the qtile version of Garuda Linux. Yesterday everything was working fine, didn't modify a single file on my computer, yet this morning I was suddenly unable to even boot into the system. There is no issue getting past my bios, decrypting the drive, and then getting past the garuda screen that has options to boot to a snapshot, into the default garuda, shutdown, or restart. Once I try to actually boot into the system, however, is where I have problems.
Booting into garuda

Loading Kernel linux-lts-bmg ...
Loading initial ramdisk ...

That shows up fine and then immediately drops me into emergency mode where I can login to a TTY as root and then run journalctl -xb. I do apologize for posting the output of that command as a video but I have no way of copy and pasting it to privatebin. I will also post the output of fdisk -l and lsblk.
As far as I can tell, the mount is failing but all data is still there.
journalctl -xb:
Being hosted on YouTube here.
fdisk -l and lsblk: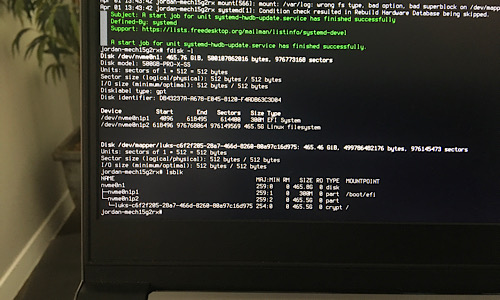 Again, I do apologize for the video and pictures. Any input as to how to fix this is definitely appreciated!