I installed this distribution 2 days ago and I'm doing very well! Good job!
Nice to listen, oops read

and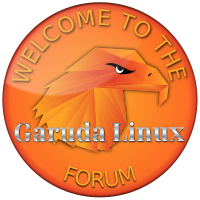 Das denke ich auch.
Ich bin von Hefftor- nach Garuda-Linux umgezogen, weil es dort weder ein Forum, noch einen Support gibt. Stattdessen Merchandising. Ein Hefftor-T-Shirt benötige ich nicht. Garuda-T-Shirts besitze ich bereits.

In Arch-Linux muss ich mich noch einarbeiten, dafür ist mir die hinduistische Mythologie bestens vertraut.
Danke für die Distro und an alle, die daran arbeiten!
Yes it is